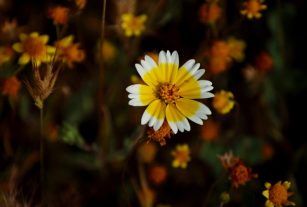 A wildflower is a flower growing freely without human intervention. They grow in the wild and are not intentionally seeded or planted. Even when we humans create our own wildflower meadow from a seed packet the selected seed is neither a hybrid nor a selected cultivar different from the way it appears in the wild as a native plant. We are naturally drawn to fields of flowers and I didnít want to miss out on this yearís spectacular wildflower display.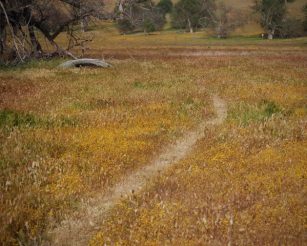 With well spaced precipitation we received this rainy season I knew there would be good wildflower displays where ever I decided to go. Because I lived in the Pismo Beach area for many years, the central coast of California got the nod and off we went with our dog Sherman along for company.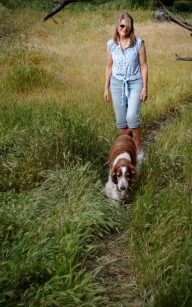 When I used to live in San Luis Obispo county there were more cows than vineyards. Not so anymore. So after a bit of wine tasting near Paso Robles we headed out towards Shandon and parts south to check out an area noted for itís flowers in springtime.
Our first wildflower stop was Shell Creek Road which is abut 20 miles outside Santa Margarita near Highway 58. Named for the many fossilized shells that are found in the exposed strata of the bordering hills, this area is famous for itís wildflower displays. The central coast has not received as much rainfall this El Nino year as southern and northern California. Still the wildflowers were pretty spectacular.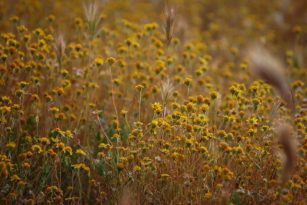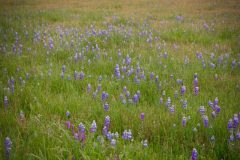 The weather was warm and soft late afternoon light accentuated the golden hills covered by wildflowers aptly named goldfields. Also in the mix lupine, tidy tips and owlís clover splashed the hills and pastures with color while the grasses swayed in gentle breezes as we walked among the wildflowers. The drive itself is beautiful at this time of year but itís when you get out of the car and walk among the flowers that you really get to appreciate them. The cattle were the only other observers of these green hills splashed with flowers planted only by mother nature.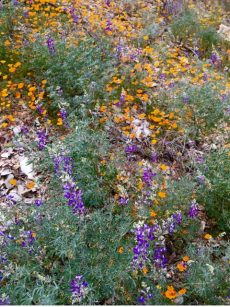 Next stop was the Lopez Lake area. Wildflowers are ephemeral by nature and depending on the weather they may bloom, peak and fade in a very short time. Hiding beneath showy displays of color covering a hillside are dozens of little beauties that require you to get up close and personal to enjoy their tiny fragile features. itís easy to take in the orange colored hillsides of poppies and goldfields but also take the time to marvel at the small jewels hiding among them.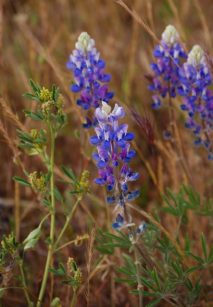 Iíve also lived in the Antelope Valley are where California poppy fields go on for miles. And in 2005 I walked in the previous super bloom in Death Valley. Theodore Payne Foundation has an online wildflower hotline with weekly wildflower reports for all of California with their peak blooming times. February was dry in our state and some of the smaller wildflowers have already faded after setting seed. After our March rains and light April showers larger wildflowers might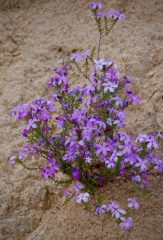 get another bloom this spring in some locations so check the site for whatís blooming and where. Next year be sure to check out this source of wildflower sightings early and often in the season to get the very best wildflower viewing time for where ever you might want to visit.