Knowing which type of plant community you live in can make the difference between success and ho-hum results in your garden. Choose the right plant for the right place.
Plant communities have evolved over time with geologic changes in climate, topography and soils. We have several district areas here- mixed evergreen forest and redwood forest, chaparral and the sandhills.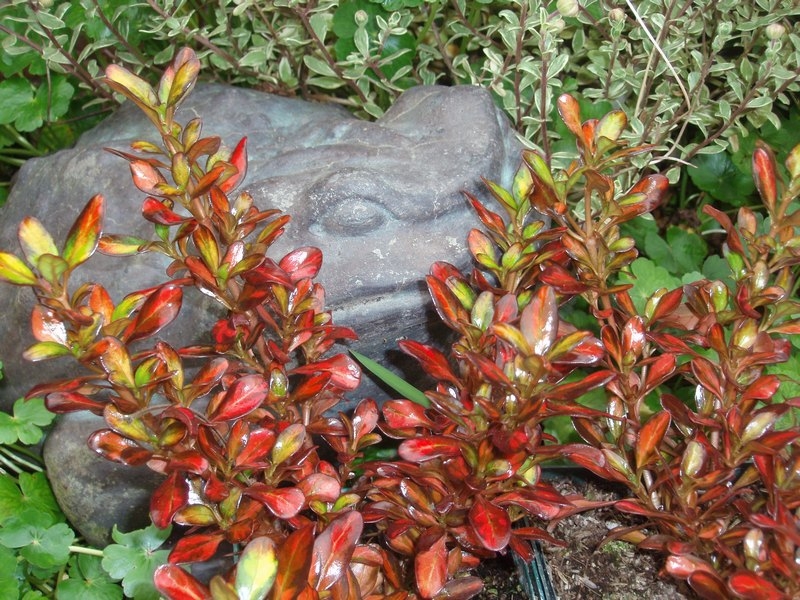 If you live in a mixed evergreen forest you garden with trees like coast live oak, tan oak, madrone, bay and buckeye. Understory plants include ceanothus, coffeeberry, hazel and poison oak. Your soil contains serpentine and granite. Many other unthirsty plants like salvias, lavender, santolina, society garlic, needle and giant feather grass and rockrose also do well here. Another plant to try that will also flourish in your garden is a native of New Zealand called Coprosma. There are many colorful varieties now available like "Evening Glow". All are valued for their colorful variegated foliage especially in the cooler months when the leaves turn orange red. Many coprosmas grow to 4-5 ft but Evening Glow is just 14" tall. They need little water and can be happy in full sun or partial shade.
Mixed evergreen forest may also be found along canyon bottoms near streams where bigleaf maple, white alder, cottonwood, and western sycamore trees grow. Most plant grow lush in this deep soil. If you are looking to add something new to your garden here consider brunnera which blooms now with tiny clear blue flowers that freely self-sow without being invasive. It has large heart-shaped leaves that are showy, too,
Chaparral areas are the hottest, driest slopes of these mountains. Dense thickets of manzanita, coyote brush, chamise, coffeeberry, ceanothus, monkey flower and sage are native here. These plants are adapted to little water and often have tiny, thick, waxy, light green or grayish leaves. Soils tend to be rocky, shallow and overlaying rock or a subsoil that is mostly clay. Plants here need to have an extensive root system that reaches widely and deeply for water. If you live here be sure you have the spring blooming western redbud and Julia Phelps or Dark Star ceanothus. The combination of magenta and electric blue flowers is unforgettable.
The sandhills near Quail Hollow and Bonny Doon around Martin Rd. are part of an ancient sandy sea floor that was uplifted, eroded and exposed. These sandy soils lack organic matter and nutrients and their white color magnifies the temperature of the summer sun. Unique, native plants include silverleaf manzanita and Ben Lomond wallflower live here. When you plant in these soils amend with compost to provide needed nutrients. Lewisia, a pretty little plant native to northern California, thrives in sand and gravel soils with good drainage. This 8" tall hardy perennial blooms from spring to early summer with extremely showy flower clusters in colors ranging from apricot to pink, rose and bright cherry red. Mulch these beauties with gravel or crushed stone.
Remember right plant-right place.