Every season new varieties of colorful flowering annuals and perennials are introduced by hybridizers. These new plants are field tested and bred for better performance, disease and insect resistance, flower size, color and heat tolerance. Where does this happen? What goes into that gorgeous vivid red geranium you see on the bench at the nursery?
Over 30 breeders of flower seeds and perennial starts each spring showcase their new varieties in trials held throughout the state. Professional growers visit the trials to choose which new varieties they will grow this year and offer to local nurseries and garden centers. Goldsmith Seeds in Gilroy is one of the locations that hosts the colorful spectacle.
Fragrant, wisteria-covered arbors shade paths that wind throughout the landscaped grounds . The grounds are open to the public to enjoy throughout the summer. Also on site are the greenhouses where breeders work on creating new and better flower varieties. It was interesting to see several acres planted with fava beans as a cover crop. Soon the fields of this flowering legume will be cut down and tilled into the soil to add nitrogen. Legumes attract soil dwelling bacteria that attach to the plant's roots and pull atmospheric nitrogen out of the air and soil, storing it on the roots as nodules. When the plant is cut down and chopped up to decompose that nitrogen remains in the soil to feed new plants. After a few weeks of decomposition the energized soil will be ready for planting test flowers that Goldsmith seeds will further evaluate.
All of the seeds are actually grown in greenhouses in Holland and Guatemala. Cool season flowers like primroses, cyclamen, violas and pansies are produced mainly in Holland while warm season flowers like dahlias, geraniums, gazanias, and verbenas are grown at different elevations in Guatemala. I learned Goldsmit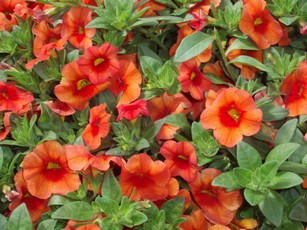 h Seeds has been developing and growing seed in Guatemala for 40 years.
What new cultivars really impressed me at the trials? There's a new geranium that combines the best features of ivy and zonal geraniums. I liked the amazing color of Calliope Dark Red but all the colors were show stoppers. They would be perfect for baskets or beds in full sun or part shade. And you should see all the colors that calibrachoa now comes in-light blue, dark blue, deep yellow, peach, orange, even white with rose veins. These have now been bred to bloom earlier in the season which is why you're seeing them in nurseries now. There were many fragrant flowers like . I always looks forward to them when they arrive at the nursery.
Try something new in your garden this year. There are so many good choices.