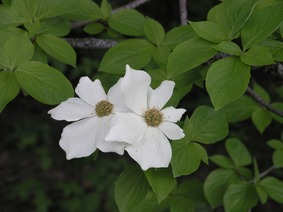 Driving east to Yosemite recently, I was reminded of how diverse botanically and geologically is the state of California. Leaving the redwood forest here, I passed tawny grasslands and oak studded foothills to a mixed evergreen forest up in the Sierras. Many of the same plants grow here- buckeye, solomon seal and western azalea. I was hoping the native Pacific dogwood would still be blooming and was not disappointed. Huge white flowers, resembling butterflies, covered these small trees. I last saw them a couple of years ago when they wore bright red fall foliage. This got me thinking. What other plant are interesting in more than one season?
Here is a table of trees and shrubs to add to your garden
| name | flowers? | fruit berries? | Fall color? | interesting bark? |
| --- | --- | --- | --- | --- |
| Dogwood | yes | yes | yes | yes |
| Golden Raintree | yes | yes | yes | yes |
| Maple | no | no | yes | yes |
| Crape Myrtle | no | no | yes | yes |
| Redbud | yes | no | yes | yes |
| Fringe tree | yes | no | yes | yes |
| Katsura | yes | no | yes | yes |
| Crabapple | yes | yes | no | no |
| Persimmon | no | yes | yes | yes |
| Nandina | yes | yes | yes | no |
| Japanese barberry | no | yes | yes | no |
| Smoke bush | no | yes | no | yes |
| Blueberry | yes | yes | yes | no |
Other plants that make a bold statement in the garden are big-leaved perennials. If one of your garden beds or borders need something to quickly enliven the scene, look to giant leaves to give contrast. Often a planting will have too many similar flower or leaf sizes and end up looking fussy, overly detailed and chaotic. That's when large architectural plants come to the rescue.
Ligularia dentata form 3 ft. clumps in partial shade. From midsummer to early fall, 3-5 ft. stems bear 4" wide orange-yellow daisy-like flowers. Their leaves are the most striking feature. Othello has deep purplish green, kidney-shaped leaves almost a foot across while Desdemona has leaves with purple undersides and green upper surfaces. Ligularia clumps can remain undisturbed for years and stay lush and full from springtime through frost.
For borders in the sun, cannas add drama. They stand bright and tall with huge leaves on 4-6 ft. stems. Some like Pretoria and Tropicana have striped leaves and others have bronze leaves like Wyoming and Sunburst Pink. Flowers range from orange, red, pink, yellow, cream and bicolor. Canna leaves are useful in flower arrangements but the flowers themselves do not keep well. In the garden border, canna foliage, backlit by sunshine, positively glows.
Red bananas are grown for the impact of their beautiful leaves which range in color from deep claret brown to re-purple to green. Plant them in full to part sun in an area protected from the wind to avoid shredded leaves. Ornamental bananas grow fast to 15-20 ft and make a bold tropical accent in any garden.