It's not too early to start planning for gifts to give for the holidays. You might be putting together something quick to give to the hostess on Thanksgiving or planning ahead for Christmas presents. Here are a couple of ideas to consider:
Colorful chard, kale, lettuce and spinach are not only nutritious and delicious, they're also beautiful. With food prices going higher and higher , plant up of pot of living greens in a container to give as a gift. Choose a container at least 12" wide and fill with potting soil. If you plant from cell packs now they'll be full next month to give but even if you put a couple of herbs or veggies in a pretty pot now they'll be appreciated. Bright Lights chard would look great by itself in a glazed pot.
These leafy greens can be harvested over a long period of time by gently tearing off the outer leaves and allowing the center to continue growing. With food prices going higher and higher, even someone who has never grown veggies before will appreciate a gift like this. Plant up a couple for yourself, too, to have by the kitchen door.
For those of you that have a cool season veggie garden already in progress, it's time to fertilize them to increase production.
Give a bouquet from your garden to dress up a Thanksgiving table. Right outside your door you can find plenty of fall leaves and berries and even a couple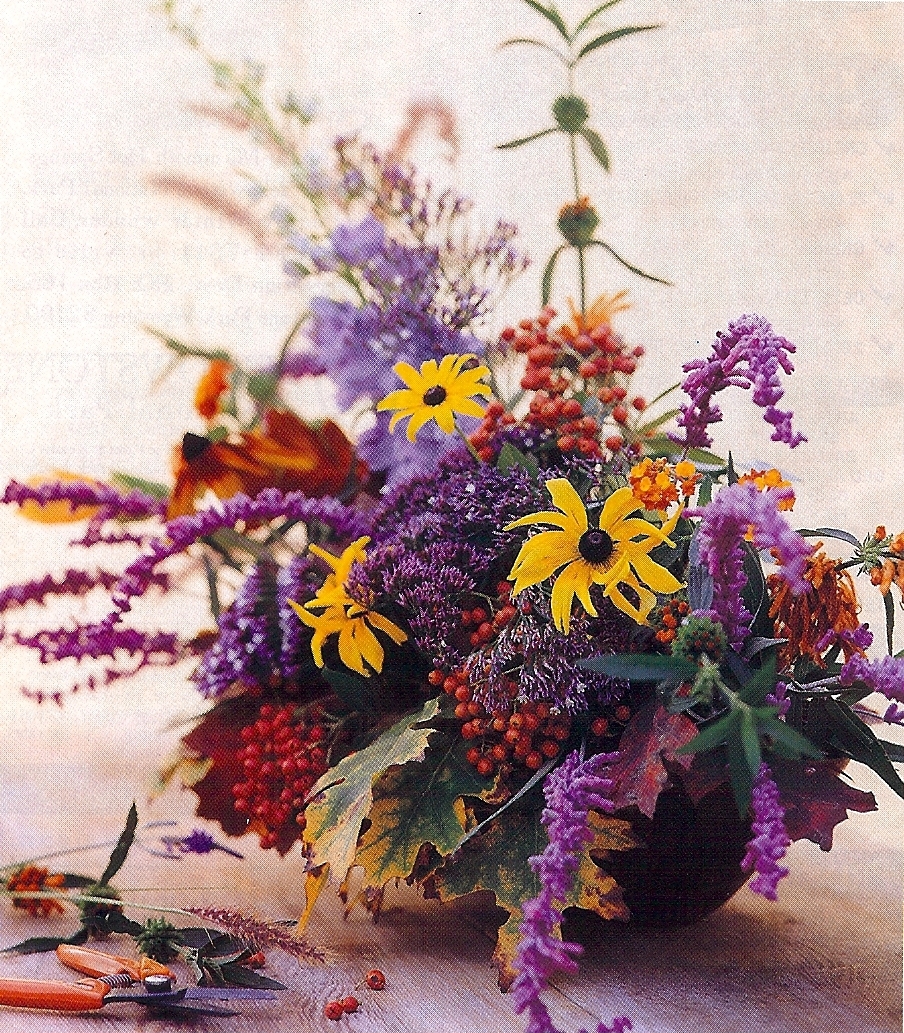 of flowers if you're lucky. Mexican bush sage are still blooming as are lion's tail, maybe a few cosmos, Japanese anemones and asters. Ornamental oregano holds up well , too, especially the variety Santa Cruz. Foliage can be a key player and might be found from smoke bush, ornamental grass, purple hopseed, crape myrtle, Chinese pistache, oaks, maples and liquidambar. Dogwood leaves would be beautiful as would ornamental pear. Berry accents are a staple for a fall bouquet and you might have nandina, cotoneaster, hawthorn, dogwood or crabapple in your garden. Go out and fill a brown shopping bag with whatever strikes your fancy to create a beautiful fall bouquet to give or dress up your own table or entry. Your arrangement should last about 4-7 days in a moderately cool room.
I like to start hyacinth bulbs in the refrigerator in pretty colored hyacinth jars to give as gifts. Make sure the water barely touches the bottom of the bulb or it may rot. It usually takes 6 weeks or so for the jar to fill with roots before you bring it out and place in a bright spot gradually so it can acclimate to the light. Their fragrance is incredible.
Forcing narcissus bulbs is simple and make a classic gift that can perfume an entire room. Flowers take 4-6 weeks from the time you plant them to set buds so start them now. You can plant them in a shallow pot filled with potting soil or nestled slightly in pebbles or sand in a water tight jar. An interesting container from the thrift shop would make your gift unique.
Allow the plants to grow under cool, bright conditions to keep their stems compact and strong. Stake flower stems if they start to flop over or you can give them a diluted solution of alcohol to keep stems and leaves 1/3 to 1/2 shorter than those growing in plain water. The key thing is to let the bulbs develop roots in water and stones to anchor the roots as usual until the shoots rise 1 to 2 inches above the top of the bulb. Then pour off the water and replace it with a solution of water containing 4 to 6% alcohol such as gin, vodka or rum. To get this percentage from an 80 proof distilled spirit, you would need 1 part liquor to 7 parts water. This yields a 5 percent solution.
Use this alcohol-water combination when you need to add water to the bowl. Cornell scientists say rubbing alcohol also works but because it is typically 70 percent alcohol, less is needed, just 1 part to 10 parts water. I wrote about this interesting method last year but thought you might want to be reminded abut this handy tidbit of information if you're going to start for yourself or to give as gifts.