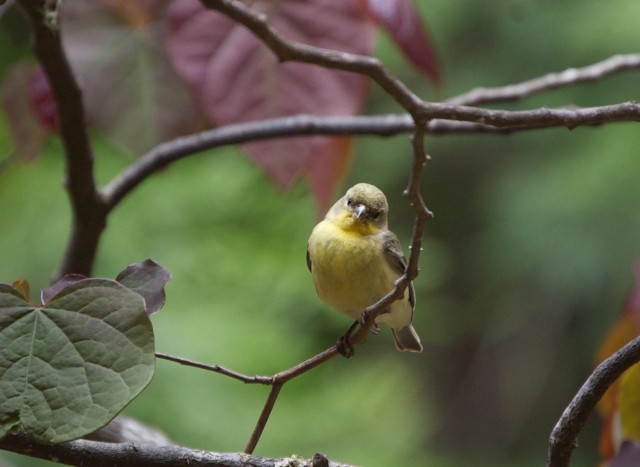 With the colder, rainy weather my feathered friends appreciate the seed in the feeders I have around my house even more. The Anna's hummingbirds still frequent their feeders regularly now that the pineapple sage flowers and flowering maple are about the only nectar source in my garden. I strive to attract wildlife to my garden with the right plants, water and shelter.
That brings me to Christmas. The turkey leftovers are gone signaling it's time to dust off the Christmas list. I add an idea for a present for a loved one and then one for me. I'm the easy one. I like everything. Sometimes I'm stumped, sometimes it all comes together seamlessly but whatever I decide to give I know some of the best gifts are the ones from nature or that I make myself. With that in mind I have a few ideas up my sleeve.
A friend loaned me a book entitled 'Wildlife Gardens' that is published by the National Home Gardening Club. Within the 8 chapters, ranging from "Who's Out There and What are They Looking For" to "When Wildlife is a Problem" are many ideas, reminders and advice to discover the wildlife garden. Whether yours is a young friend or a long time friend that's on your gift giving list, there's a gift idea from nature for everyone.
The wildlife garden is a place to relax and recover a sense of connection with other creatures. Nesting boxes, flowers and other plants encourage birds to make their homes in your yard. Give a bird feeder or suet feeder to someone and they'll be hooked. You can make simple feeders yourself. A platform with edges gives many birds a chance to feed at once. You can add a roof supported by branches you find in your own garden to upgrade the look.
Plants provide needed food year round in the garden and especially during the winter. Why not give a friend a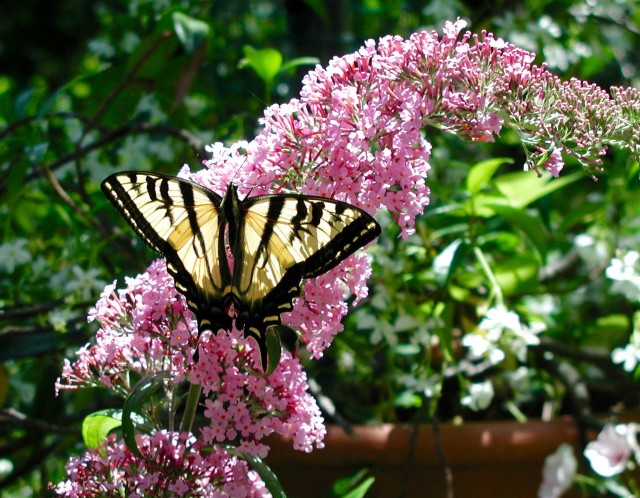 plant or offset of one of your plants that birds, bees or butterflies would appreciate? Some easy-to-divide favorites that attract birds include foxglove, coral bells, red-hot poker, California fuchsia, mahonia and purple coneflower.
You might have one of the following butterfly favorites that you could divide and pot up for a friend. Yarrow, aster, veronica, agapanthus, astilbe, coreopsis and gaura to name a few that butterflies favor. Ceanothus and columbine are two plants that self sow in my garden and would be great to pot up for a gift.
A fun thing I like to do during the holidays is decorate a plant or tree outside with edible ornaments for the birds. You could trim an evergreen swag and decorate it as an easy gift. Both fruit-eating and seed-eating birds will appreciate the dietary boost during the lean winter months. For the fruit-eaters attach dried apples, hawthorn berries, cranberries and grapes to the greenery. You can also thread them onto wire loops with raw whole peanuts in the shell and wire orange slices to the branches.
Seed-eaters relish stalks of ornamental wheat tied to the branches, along with ears of dried corn. The favorite of all the "ornaments" is peanut butter-coated pinecones encrusted with wild birdseed mix and hung with florist wire. Millet sprays tied to the branches are a hit, too. Look around your garden for other berries that you can use to decorate your own trees or plants or a swag of evergreen cuttings as a present for the birds and the nature lover on your list.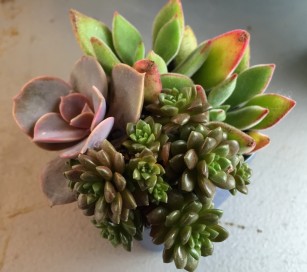 Also on my list of gift ideas is a dry arrangement of seed heads, pods and foliage from my garden in a thrift shop container or tea tin. A selection of little succulent cuttings you can spare look great in a recycled container or pot and would be a welcome addition to anyone's kitchen window.
The holidays, maybe even more this year, are a time to bring a smile to someone you care about. Your gift doesn't need to cost very much to show your love.