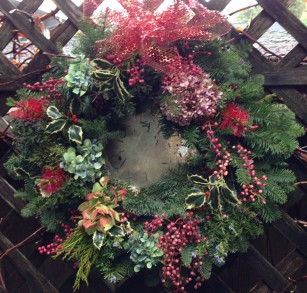 After a hiatus last year I again had the pleasure to join my neighbors at their annual wreath making party. This is the 11th year this group has gotten together "rain or shine" according to hosts Barb Kelly and Martha Radcliffe.
The wreath making extravaganza lasts for over a week and friends and relatives come from far and wide to create the most amazing wreaths. But it's the work of Barb, her husband Reggie and neighbor Martha who make it all possible. This year pouring rain didn't stop them from seeking out their favorite plants to snip. For a week or so they cut and prune and piled everything up for those of us who drop by to use freely as we create our wreaths.
One of my fellow wreathers this year came all the way from Roseville as they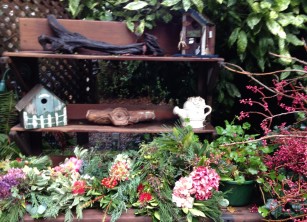 always do. Her sister and niece Jaelyn had a wonderful time making their wreaths but hers was well over 2 feet across and weighed about 30 pounds. "I like everything big", she said with a laugh, "including big wreaths and big hair." You hear the description "this one's a Kardashian" in the group. These amazing creations are created from so many bundles of greenery, flowers and berries that they end up weighing more than you'd think.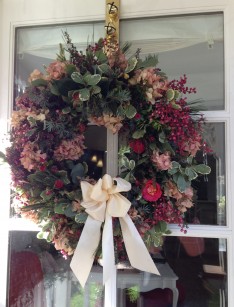 Barb, who's house and garden we invade, creates lots of wreaths, the bigger the better. She holds the record for making the biggest wreath while Martha holds the record for the most wreaths. Both use them in their own homes and to give away as gifts to friends and neighbors. Used to be Barb would give one to her secret pal in her bunco group but they all come now and make their own wreaths these days.
Barb says this year she thinks the one she made for her front door is one of her best. It's not the biggest but features dark pink camellia buds and tiny red roses in addition to the deep red flowers of New Zealand tea tree. She added an ivory bow to complement her door.
Little Amanda was there with her Mom and one her friends Anastasia. I met Amanda a couple of years ago when she posed with her own creation for me. The kids will be making their own wreaths later in the week. One of these small fry is only 4 yrs but all are going to make wreaths too with a little help.
One gentleman made several square wreaths which were unique. Each wreath maker creates a different kind of look when choosing the plant material for their bundles. Some are meticulous in combining the exact same mix as they go around the wire frame. Others gather with abandon from conifers, variegated shrubs and other favorite plants that are piled high along the edges of Barb's deck.
You can make a stunning wreath yourself from most anything you find around your garden. Barb, Reggie and Martha have favorite places they have scoped out to collect greenery including neighbor's yards. They get permission from the homeowner first but have several people who look forward to the free pruning of their shrubs each year.
Some of the plant material that they harvest include conifers like cypress, deodar cedar, redwood, arborvitae and fir. Broadleaf evergreens such as camellia, bottlebrush, variegated pittosporum, variegated holly, green holly, silver dollar eucalyptus, boxwood, oleander, acacia. melaleuca and abelia are also good. For color, try snippets of leptospermum Ruby Glow, leucodendron 'Safari Sunset', camellia and rose buds and dry hydrangea flowers. Favorite berries are myrtus communis, texas privet, pepper berries, holly berries and nandina.
Take a few minutes to create a wreath or swag for your own home or to give away to friend and neighbors. It's a fun way to celebrate the holidays.