There's always so much to do in the garden in early spring. It can be overwhelming deciding what's important and what can wait. This is how I tackle my garden to spruce things up in a hurry.
First, I decide what problems stand out and choose what to do based on which areas will be the most noticeable. Which improvements will have the most impact?
Focus your attention where family and friends gather- the patio, a shady spot if it's hot or a sunny area if it's cool in your garden. Clean up what catches your eye like dead limbs, tall weeds or clutter. Sweeping the deck or patio will make the whole garden look better.
Flowers attract the most attention. Focus on the beds closest to gathering spots and those places you see outside the windows. Enhance what you have. Blooming or bright foliage plants can fill in gaps in beds.
Perk up your entry with new plants. Group several containers filled with plants you love. The bigger the plant you use, the more immediate the effect. Combine shades of all one color like blue, purple or red for a more dramatic look.
What else can you do to spice u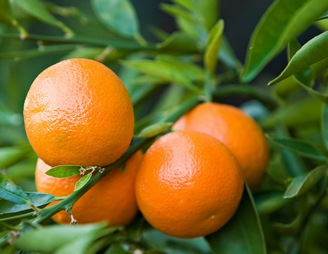 p your landscape? Plant a dwarf citrus. They grow to only 8 feet so fit into small spaces. Plant in a spot that gets full sun and has well drained soil. Citrus are slow growing and do great in containers, too.
A favorite lemon variety is Improved Meyer. It a actually a cross between a lemon and an orange and tastes slightly sweeter than a true lemon such as the Eureka. The fruit is very juicy and holds well on the tree, increasing the sweetness.
If your'e looking for an ornamental specimen for a patio container, consider a Nagami kumquat. Small reddish-orange fruit hang on the tree nearly year round and you eat them whole-peel and all. This small symmetrical tree is Japan's most popular kumquat.
Another very attractive citrus is the which is also known as the Clementine. Its weeping form, dense, dark foliage and fruit that is held toward the outside make this a very showy specimen either in a container or in the ground. Sweet and juicy fruit hold on the tree for several months. This is the variety you see in the market from December to May. Wouldn't it be great to have one in your garden?