Gardeners who sow wildflower seeds in the fall may envision a springtime scene of brightly colored blossoms billowing in the breeze with butterflies and bees dancing from bloom to bloom. but sometimes when spring arrives, weeds-not wildflowers steal the show.
The most common mistake when planting wildflower seeds is not getting rid of the existing weed and grass s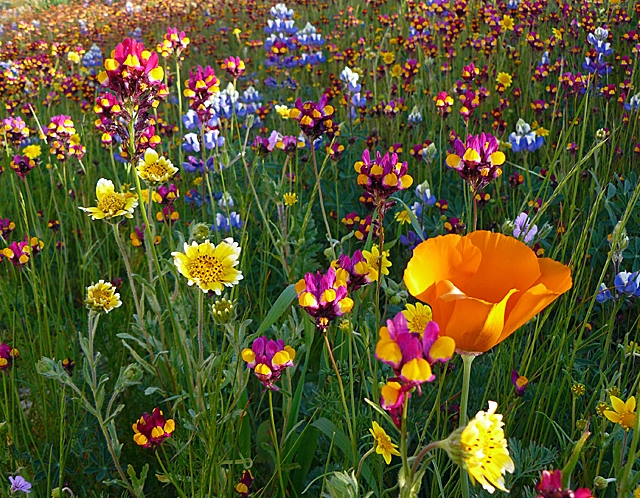 eed that is in the soil and germinate along with the wildflowers. These fast-growing weeds smother the slower growing wildflowers. For a more successful planting, take time to eliminate the competition.
First, choose a site in full sun, To get rid of existing weeds, cultivate the soil 3-4" deep and remove all the weeds. This the the method with the least environmental impact.
The next step is crucial. Soak the soil thoroughly, then wait for the weed seeds to germinate. When they do, lightly cultivate the soil to a depth of not more than 1 inch. Deeper cultivation exposes more weed seeds that will germinate along with the wildflower seeds.
Before sowing the seeds, rake the soil to form shallow grooves. Ensure even distribution of seed by mixing with 4 times its volume of sand and broadcast by hand. Rake the seed lightly into the soil and tamp it for good soil contact. Wait for fall rains to germinate the seeds. You can water to keep the soil moist if rains don't come.
Next year, when the plants have dried and dropped their seed, . Be sure to take pictures of your meadow in the spring with the butterflies, bees and birds enjoying it.