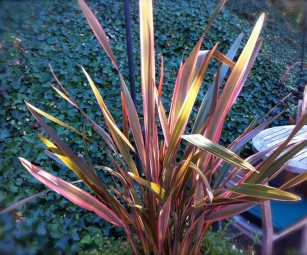 Throughout the year I am asked for design help and plant suggestions but it's at this time of year that I especially hear the request, "I'd love to add more grasses to my garden". There's no doubt that the movement and sound of grasses in the landscape adds another dimension to our experience. Many grasses and grass-like plants use less water than other plants, too. This is the time of year that grasses say "Fall is here".
There's an ornamental grass for every type of garden. Whether you are striving to create the perfect perennial border or have a hot dry slope, grasses can work in harmony wherever you place them. There are some that are made for the shade, some that are perfect additions to a small water feature and many that are invaluable in container gardening.
Most grasses require little care, minimal fertilizer, only occasional grooming and just enough water to meet their needs. Diseases and insect pests are rare. They have succeeded because of their adaptability and have evolved to suit almost every environment and climate on earth.
Grasses are distinguished from other plant families by their growth habit. They grow upward from the base of a leaf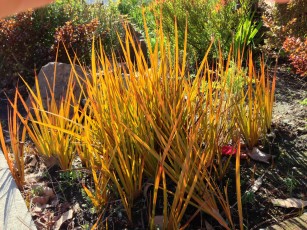 or shoot and can regrow from the crown when cut back. True grasses generally have extensive root systems which help control erosion. There are other grasslike plants that resemble grasses in their growth habits and are often some of the best companions for interplanting with grasses. These include New Zealand flax, carex family sedges, chondropetalum-a restio, kangaroo paw, lomandra, montbretia, liriope and their cousins ophiopogon.
So let's say you are putting in a new patio and want a few low grasses as accents between some of the pavers. A variety like Northern Lights Tufted Hair Grass, with it's creamy white foliage that turns pink in cold weather, would look great here. You could also use Ogon sweet flag for dense clumps the color of buttery in a shady spot, black mondo grass or blue fescue grass for even more color.
If you are trying to create a focal point or destination in your garden and think the texture of a grass with light and movement would be perfect, look to taller varieties to achieve this. Miscanthus purpurascens or Flame Grass grows 4 to 8 feet tall in the sun. Their magenta leaves turn to milky white in winter. Maiden grass sports narrow upright leaves 5 to 8 feet tall and creamy flowers. Their seed heads float and bounce in the the breeze. Planting them just above the horizon allow you to enjoy their swaying and dipping backlit at sunset.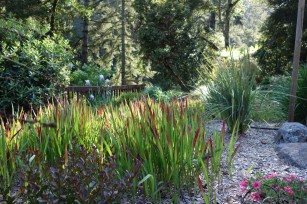 Besides texture, grasses provide color for your garden, too. Who hasn't admired the burgundy foliage of red fountain grass? it's one of our most popular grasses with it's fox-tail like coppery flower heads. Another favorite of mine for color is Japanese blood grass, You'll love this grass when you place it so the sun can shine through the brilliant red blades. This grass spreads slowly by underground runners and grows in sun or partial shade forming an upright clump 1 to 2 feet tall. Pink Muhly grass will stop traffic when in bloom.
Are sections of your garden hot and dry? Grasses are survivors and are good choices for sunny spots that get little irrigation. Good drainage is a must for these plants so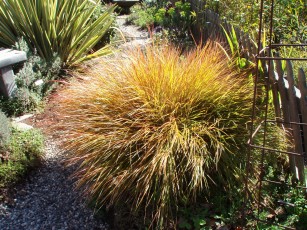 amend the soil with plenty of organic matter before planting. Combine drought tolerant grasses with companion plants and a few accent rocks to complete your dry theme. Good combinations for these areas are Pheasant Tail Grass with the sky blue flowers of Russian sage. This grass is extremely drought tolerant once established. Giant Feather grass looks great with the purple flowers of penstemon 'Midnight'. If you like blue foliage, try 'Elijah Blue' fescue grass with Amazing Red flax for a show stopping combination.
For a touch of whimsy, you can't beat fiber optic grass. This grass-like sedge from Europe and North Africa looks like a bad hairpiece. You can grow it at the edge of a shallow pond or display it inside in a pot on a pedestal to show off it's flowering habit. Seeing is believing with this one.
These are just a few of the places where grasses can enhance and add beauty to your garden. Fall is the perfect time to plant a new one.