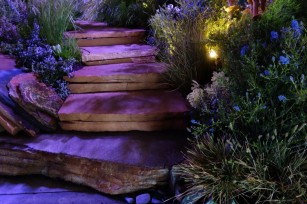 Every year I look forward to the San Francisco Flower & Garden Show for inspiration and landscape design ideas. Held in March of each year, it takes all day to look at everything, inspecting each display garden for new plant introductions and new uses for familiar ones. Creative pathways and unique solutions for seating, arbors, water features, outdoor kitchens and patios greet you at every turn. Even the marketplace offers plants and garden objects that you simply must have in your own garden. This year was no exception.
I started attending the San Francisco Flower & Garden Show back when it started in 1986 and was held at Fort Mason in San Francisco. My father, a retired Army colonel, enjoyed it because he was already familiar with the army post. He accompanied me many times even after the show moved to the Cow Palace. I always think of him when I'm at the show as he nurtured my interest in gardening with those giant pansies in my first garden.
Now the show is at the San Mateo Event Center. It's still a huge and complex production using 150 dump truck loads of sawdust and mulch and 280,000 pounds of rock to create the display gardens. Even the drive up to San Mateo starts one thinking about plants as the ceanothus are covered with cobalt blue flowers at this time of year and the Western redbud are striking clothed in magenta blossoms.
Another native plant that caught my eye at the show was a yellow flowering c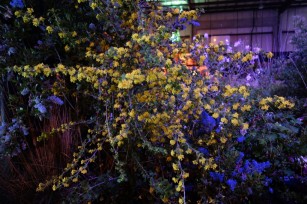 urrant, Ribes aureum gracillimum. Golden currants are native from Riverside county to the south Bay Area. Masses of yellow flowers in early spring are enjoyed by Anna hummingbirds, bumblebees and Monarch butterflies. California thrashers and robins love the berries which are edible and taste like Thompson seedless grapes. It's a beautiful, low water addition to the garden along with the deep, pinkish-red flowering currant, 'King Edward VII' ribes sanguineum.
Several display gardens featured a small tree with interesting contorted branches. Twisty Baby Dwarf Black Locust grows to only 15 ft tall and at this time of year bloomed with fragrant, white flower clusters. In the legume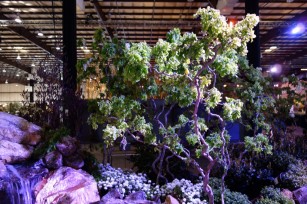 or pea family, the robinia species has nitrogen-fixing bacteria on its root system. For this reason it can grow on poor soils and is an early colonizer of disturbed areas. They have been planted well beyond their native range of Eastern United States by settlers for fast homestead shade and hardwood fence posts. Early settlers of our area planted them also and they can still be seen along Hwy 9.
In the Marketplace of the show, I couldn't resist buying some metal sculpture birds hand crafted from cast off 55 gallon steel drums. Artists in Haiti create the garden art which is sold through Beyond Borders providing them access to global markets. The Fair Trade movement helps build sustainable trading partnerships that honor the value of labor and dignity of people.
Another booth offered pine needle baskets and trays created in the mountains of Mexico. Weavers in this area collect the long pine needles off the forest floor bundling them together. Many were trimmed with sand-cast polished nickel alloy trim which has the luster of silver but requires no polishing. These handmade baskets and trays were beautiful and functional.
Western Horticultural Society offered their Hot Plant Picks 2013 and several caught my eye. With silver foliage, the Spanish lavender, lavandula stoechas 'Silver Anouk', would make a great addition to any garden. Ditto for a new lavender flowering, variegated, deer resistant 'Wynyabbie Highlight' westringia. I also really liked a 'Lemon Light' salvia greggii new introduction as well as a dwarf leucadendron called 'Little Bit'.
It was fun and educational this year at the SF Flower & Garden Show. As they say "a good time was had by all" and I'll be using these new plants whenever I can in gardens I design this year.