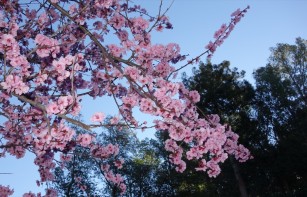 The unusually warm January weather has made the early flowering trees and shrubs bloom even earlier this year. Actually it's not so unusual for us to have a warm streak around here in January. What is unusual is the prolonged dry and stable conditions we have encountered. The high pressure system that blocks our usual winter rains does not usually last more than 2-3 weeks even in the heart of the rainy season. The persistent ridge has not behaved in a typical manner. We can only hope the ridge breaks down in the next few months and brings us more than a smattering of rain here and there.  What should a gardener be doing in February?
Prune fruit trees. Smother overwintering eggs and insects by spraying with horticultural oil.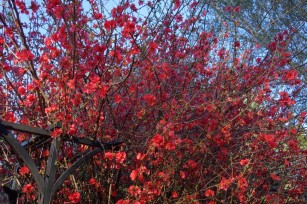 Combine your spray with lime-sulfur ( except on apricot trees ) or copper soap to kill fungal disease spores like the ones that cause peach-leaf curl. Spinosad has also been shown to supress fungal diseases. Do this when the buds swell but before they open. Do not spray 36 hours before rain in predicted. Be sure to spray the ground around each tree.
I recommend keeping winter pruning to a minimum and prune again in the summer time. Winter pruning is invigorating to fruit trees and there will be excessive vertical rebound growth, the witch's broom-like riot of growth that emerges after a tree is given a haircut. Such growth is often dense and doesn't bear much. A lot of the tree's stored energy issued to produce all these unwanted branches, leaving much less for the production of fruit.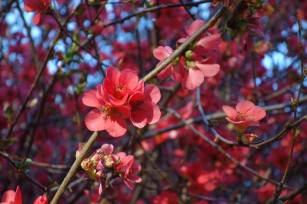 Due to our unusual weather some low-chill fruit tree varieties like Fuji apples, many apricots, peaches, nectarines and pears such as Comice and Seckel, might break bud and flower earlier because of the winter freeze and then warm weather. Plants that flower prematurely risk losing those flowers if night temps plunge but the long-term health of the plant probably won't be affected.
Strawberries are oblivious to the weather. Blackberries and some raspberries are another story. Like some fruit trees, their chilling requirements may have already been met, their buds are swelling and they're ready to take off. A rapid chill could freeze the buds and the canes might begin to die from the top down. But even if the entire cane dies, healthy new canes will emerge in spring. The early summer berry crop could be lost but fall berries will be fine.
Prune woody shrubs  To stimulate lush new growth on plants like Mexican bush sage and artemisia cut them down to within a few inches of the ground. Don't use this approach on lavender or ceanothus, though. Lightly prune them after blooming and don't cut back to bare wood inside the plant.  Prune fuchsias back by a third and remove dead, crossing branches and interior twiggy growth. Container fuchsias can be cut back to the pot rim. You won't be able to know for sure, until perhaps early summer, if the freeze killed plants like Coprosma, Echium, Tibouchina or lantana so be patient.
Cut back hydrangeas stems that bloomed last year if you haven't already done so and apply a soil acidifier if you want the flowers blue. Coffee grounds, pine needles, peat moss and cottonseed meal are kind to your soil and the beneficial soil microorganisms.
Don't prune spring flowering shrubs and trees like lilacs, flowering cherries, plums and crabapples,  rhododendrons, azaleas, camellias, weigela or spirea until after they flower.  Cut some branches during flowering to bring in for bouquets.
Prune roses and rake up any debris beneath the plant to eliminate overwintering fungal spores. Remove any old leaves that still cling to the plant. Spray the stems and bare ground with a combination organic horticultural oil and a dormant spray.
Prune established perennials later in the month if you might get frost that could damage new foliage. Giving your maiden hair ferns a haircut now allows the new growth to come out fresh. Prune winter damaged fronds from your other ferns.
Divide perennials before new growth starts. Agapanthus, asters, coreopsis, daylilies, shasta daisy and liriope are plants that tend to become overcrowded and benefit from dividing.
Mother Nature knows how to adjust to changes in the weather- slowing down when it's really cold and catching up when it's mild.