Every spring while driving Hwy 280 on the way to the S.F. Flower & Garden Show, I enjoy the beautiful combination of Western redbuds blooming vivid fuchsia alongside electric blue flower clusters. It's a sight that always excites me. In early spring there are many other plants that bloom at the same time creating colorful vignettes. Here are some of my favorites that I've used.
Shady gardens come to life when Valley Valentine Lily-of-the-Valley shrub ( Pieris japonica ) is planted in the same area as Bleeding Hearts, Geranium Biokova and Red-leaf Japanese maple. If you've never seen this shrub covered with hundreds of rose colored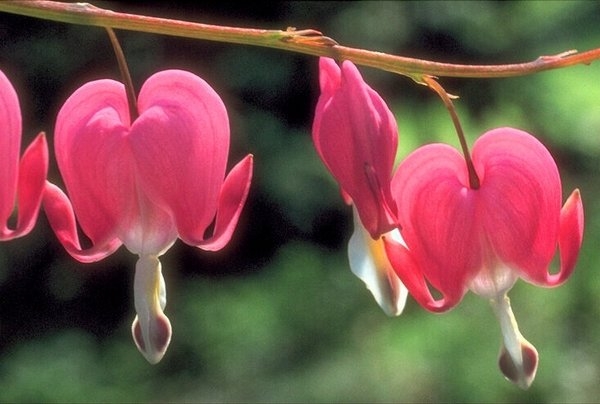 , tiny urn-shaped bells you've missed a spectacular sight. The flower buds form in fall and are colorful all winter then open slowly over many months. This plant sails through winter weather, hardy to 0 degrees and is scorned by deer. Even the bark is beautiful on this 5-7 ft evergreen shrub. Add a Red-leaf maple underplanted with pink and white Bleeding Hearts and pale pink Biokova geraniums and your woodland scene is complete.
A beautiful combination for a sunny garden in spring is Spanish lavender Dedication blooming near a Pink Breath of Heaven. Add the strappy leaves of a apricot striped Sundowner New Zealand flax and you've created a beautiful addition to your garden.
Sundowner is one of the larger phormiums reaching 6 ft when happy so allow it room and make this your focal point. Lavender Dedication is a stocky 2×3 ft plant that blooms all spring into summer and often repeats if sheared. Short, fat 2" flower spikes have 4 flag-like bracts resembling rabbit ears. Pink Breath of Heaven bears tiny flowers that cover the plant winter and spring and can continue scattered bloom at any other time. The delicate slender leaves are fragrant when brushed or bruised and would be nice along a path where you can enjoy the foliage fragrance. All three of these plants are drought tolerant and deer resistant.
Another nice combo for the sun is Bush Morning Glory planted with Erysimum Orange Zwerg and Echeveria imbricata (Hens and Chicks). If you've been wanting to add just a touch of orange to your garden, the dainty 18" tall Orange Zwerg erysimum cooled off with the silky smooth, silvery leaves of Bush Morning Glory is just the ticket. This small mounding erysimum is actually a golden orange and contrasts nicely with the fast growing 2-4 ft Bush Morning Glory. Hens and Chicks in the foreground with their blue green succulent rosettes and loose clusters of bell-shaped orang-red flowers complete the picture. All these are also low water use plants.
When planning, re-arranging or adding to the garden it's smart to keep plants together that have similar water requirements. That way you won't overwater and waste water. You still have time to move any plants or shrubs that are in the wrong place. The weather is still cool and they can settle in before the hot weather arrives. If you have just one plant that needs regular watering among low water use plants you'll be watering everything more to keep that one alive. Transplant it to another spot and your water bill will reflect this savings come this summer.