It's not just another garden show, it's the world renowned San Francisco Flower & Garden show and it was the perfect start to spring. Sure the show gardens are part theater and part reality but you can't help but come away with inspiration, ideas and spring fever. One of my favorite parts is the display of new plant introductions from Western Horticultural Society. These are great plants destined to become favorites in the garden. Well, I have my own Top 10 Hot Plants for 2011. These selections do not include California natives because Native Plant Week is coming up soon and I'll focus on our valuable natives in an upcoming column.
I'm often asked for plant recommendations for our unique set of gardening conditions-extreme weather, heavy clay or sandy soil and limited water resources in the summer months. The following plants are easy to grow, have few or no problems with pests of diseases and posses valuable qualities such as color, fragrance, winter interest or support wildlife and beneficial insects. Try something new this year in your garden.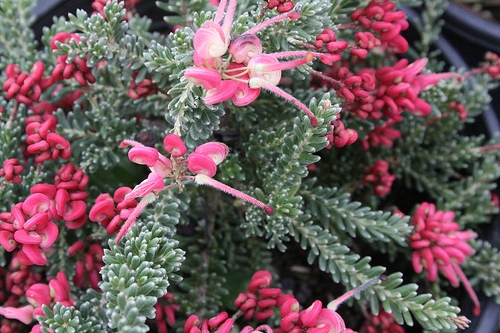 Grevillea lanigera 'Coastal Gem'. This low spreading shrub grows 1 ft tall by 4-5 feet across and blooms year round with pink and white spidery flower clusters. Great for attracting nectar feeding birds and gophers don't like their taste. Full sun, evergreen and drought tolerant -this is a great groundcover.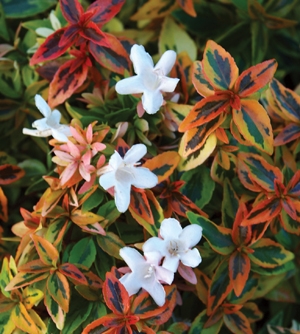 Kaleidescope abelia
This evergreen shrub is a kaleidescope of color as it's name implies. Variegated foliage is bright yellow and green in spring, changing to golden yellow with bright oranges and fiery reds in fall. Its grown habit is densely compact and rounded. The beautiful foliage doesn't scorch in the sun either. It's a beauty 2-3 ft tall and 3-4 feet wide. What more can you ask for?
Loropetalum Pipa's Red
Also known as Fringe flower this shrub sports rich burgundy foliage in a fountain shape with tiered branches.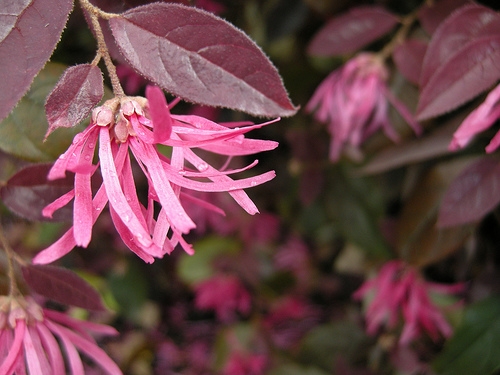 Raspberry flower clusters are heaviest in the spring but some bloom is likely throughout the year. I place this plant in the foreground where you can appreciate it's graceful shape-looks great as an accent or in a raised bed. The burgundy color can add color to a woodland garden and it even does well in a container on the patio. You can prune it to any size but please don't turn it into a tight ball and ruin it's shape. Another plus is that it is not attractive to deer.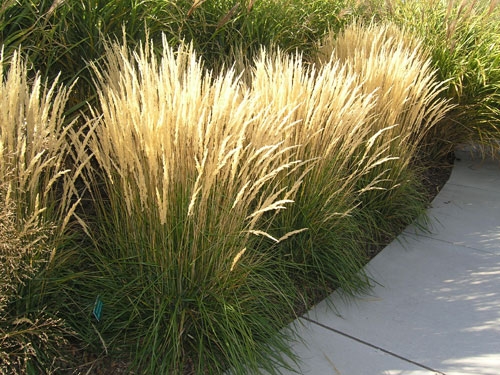 Karl Foerster feather reed grass adds a vertical element to your summer and fall garden. It provides wonderful contrast among low shrubs and perennials. Named after the famous landscape architect and photographer with a love for all aspects of perennial plants, Karl Foerster lived in Germany from 1874 to 1970. This grass won the 2001 Perennial Plant of the Year and although it's not new on the market it's an easy to grow ornamental grass that won't overpower your space.
Cordyline Electric Pink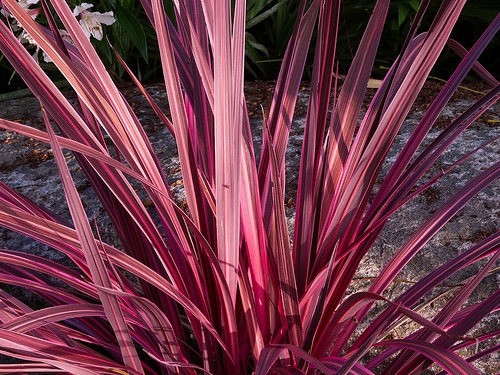 This show stopper lives up to its high-voltage name. It surpasses other grass-like plants with boldly striped leaves of maroon and shocking pink. This well-behaved cordyline is clump-forming and reaches only 2-4 feet in height and width. Place in large mixed container or flower borders to instantly add an exciting look.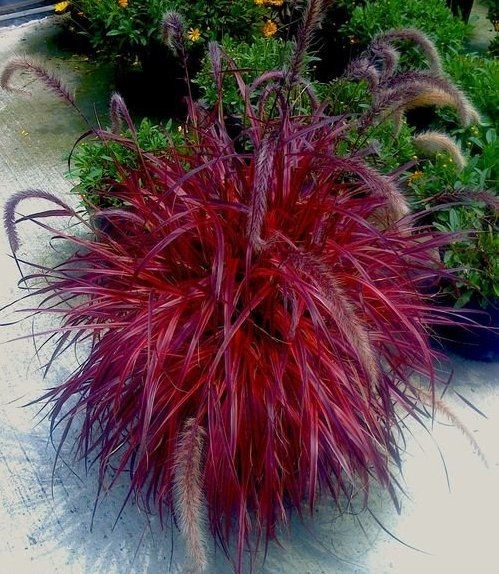 Pennisetum Fireworks
With arching leaves striped with white, green, burgundy and hot pink this grass is beautiful in the garden. Purple tassels rise above the foliage in late summer. The variegated pink striped blades of this grass are just as spectacular as the purple flower heads. Some gardens with clay soil and heavy frost in winter may need to grow this plant in a container for protection but it's worth the extra effort.

Leaucadendron Safari sunset
Fiery red bracts on densely covered tall stems are sure to draw oohs and aahs. This is one of the most po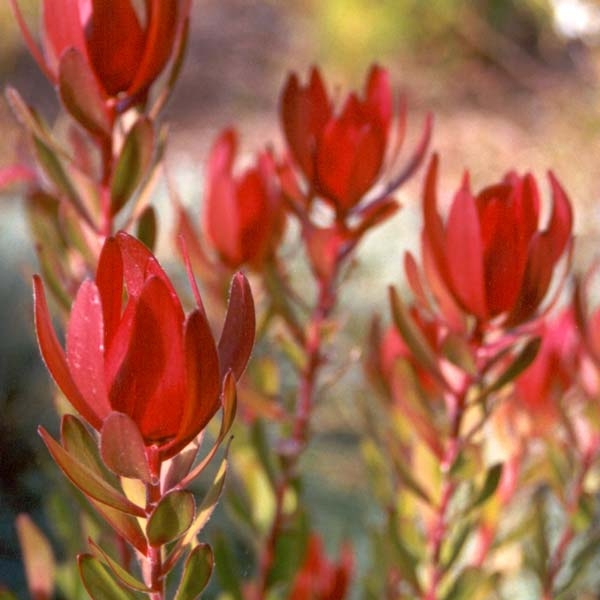 pular Leaucadendron available. It's a vigorous, erect grower to over 8 feet tall and tough enough to handle frost and clay soils. The flower is actually an insignificant cone surrounded by large colorful bracts which are excellent for cut foliage harvesting.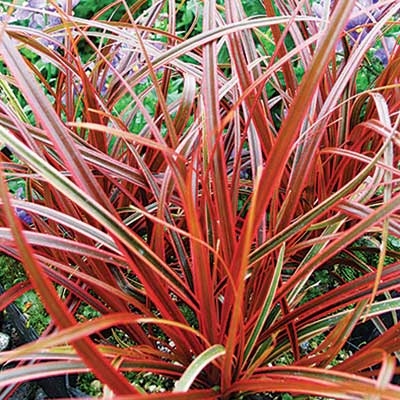 Belinda's Find red hook sedge
This red sedge is a two-tone delight of bright cherry red leaves with a green stripe running down the center. Its loosely tufted, upright form grows 12" tall by 15" wide in part sun. Tiny bulrush-like flowers, from June to August,are elevated above the tidy, low growing evergreen clump. Use in the front of the border, in masses or mixed containers.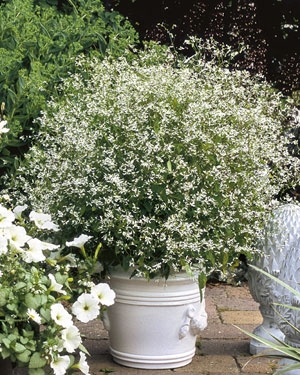 Euphorbia Diamond Frost blooms continuously with clouds of white flowers that float above finely textured apple-green foliage. This delicate looking perennial may be small in stature, reaching 12-18 " tall and wide, but is easy to grow and surprisingly tolerant of drought and heat. Combine this airy plant with bright colors for a dazzling border.
Phormium Jester is a New Zealand flax cultivar that grows to 3 feet making it a better fit in the garden than some of the larger phormiums. It can tolerate fairly dry conditions but looks best with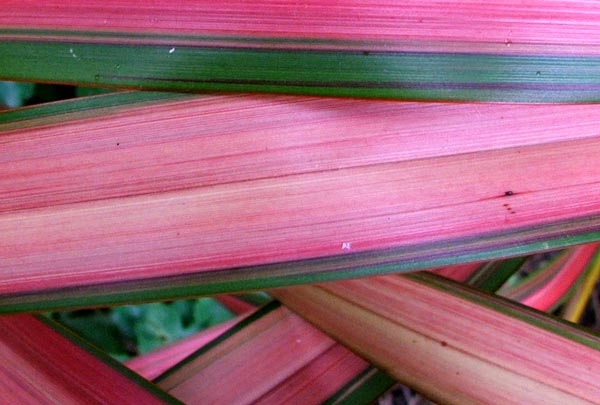 occasional to regular irrigation. This strong color combination of green and pink doesn't revert to the parent plants coloring. It's hardy to 15-20 degrees. You might find this plant also listed as Jubilee.