Summer has finally arrived. Took a while- a long while this year- but now we can enjoy nice weather and our beautiful garde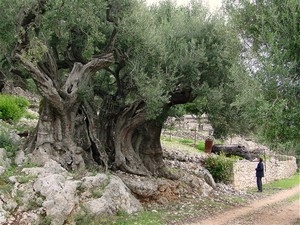 ns. The extra rainfall has allowed many trees, shrubs and perennials to grow lush and full like never before. As summer heats up think about adding drought tolerant plants especially in areas that are hard to water.
Plant an olive tree. They take the heat and are drought tolerant once established. Olives are easy to care for. They require little pruning and have few serious pests. Their grayish foliage and graceful, billowing appearance are a welcome accent to an all-green garden. The attractive gnarled branching pattern is also quite distinctive and they can live for 500 years.
For ornamental purposes or next to paving, choose a fruitless variety like are old favorites. Olives can be traced originally to southern Turkey in about 3150 BCE. The spread of the olive tree to the Mediterranean areas of Italy, France, Spain and Portugal probably coincided with the trade of wine, date palms and figs. They were introduced to California mission gardens in the 1700's for the oil their fruit produces. Many of the missions still have the original olive trees. Underplanted with drought tolerant perennials like sedum 'Autumn Joy', yarrow, lamb's ears, mimulus, Santa Barbara daisy or agastache they can be a focal point in any garden.