Every garden changes over time. Gardening is a process, a constant experiment so don't get discouraged when things don't go exactly as planned. For example, a cool spring may cause some things to bloom later while a warm, dry winter speeds up plant and flower development. Maybe that pink flowering tree now conflicts with the red blooms nearby. Whether it's caused by climate change or just the weather, take comfort that your garden can grow more beautiful each year with a little tinkering now and then.
At this time of year look to the following plants combined with ornamental grasses coming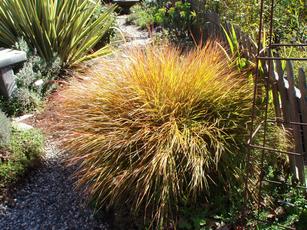 into bloom to carry your garden until autumn color from trees and shrubs kicks in. Go for dramatic extravagance with color combinations than inspire.
Russian sage. Tall, airy, spike-like clusters , create a lavender-blue cloud of color above the finely textured gray leaves. This perennial has a long blooming season and the cool color of the flowers is stunning in the fall garden. There are several varieties available with different shades of soft blue to violet blue flowers. Most grow 3-4 ft tall. Little Spire Russian sage is a shorter, upright selection that doesn't flop over in the landscape. It adds a sense of lightness to the garden. You'll love the cool color on a hot day.
Aster x frikartii 'Moench'. The lavender-blue flowers on this perennial can get 3" across and cover the plant with blooms from early summer to fall, even longer in mild winter areas if spent flowers are removed. They attract butterflies and make a good cut flower. This reliable, drought tolerant plant thrives in full sun, grows 2- 3 ft tall and is mildew resistant.
Agastache which is also called hyssop attracts hummingbirds, butterflies and bees to your garden It's also deer resistant. Aromatic foliage on Blue Fortune smells like peppermint-lemon when brushed or crushed. The flowers on Electra are vivid orange. Then there's licorice mint hyssop, orange hummingbird mint hyssop, anise hyssop and a whole slew of hybrids of every color in the rainbow- lavender, pink, apricot, orange, purplish, coral, powder blue, tangerine, red – you name it. Agastache is easy to grow in full sun or partial shade and is drought tolerant. Just be sure to provide excellent drainage.
Salvia- the workhorses of the garden. Their long blooming season makes them right at home in the fall garden. There are some 900 species of salvias. They are the largest genus in the mint family. Choose from many new cultivars like Dancing Dolls with rose and cream colored flowers. Another good choice is a Ca. native hybrid called Starlight that blooms with long white flower wands that really stand out at twilight.
There are lots of Salvia greggii varieties available such as Pink Frills, Golden Girl and Neon Dancer which has vivid rose and red flowers. Salvias are drought tolerant and deer resistant (really). Although they tolerate some shade they looks best when planted in full sun. To encourage repeat bloom trim off spent flowers stalks when they start to look rangy. They will rebloom for months.
Another common plant from this huge family is the Mexican bush sage. So showy that people mistake them for huge lavender plants. They are vigorous and upright growing to 3-4 feet tall and as wide. Velvety purple and white flowers cloak foot-long stems. Salvia Santa Barbara is a compact selection that grows 2-3 ft high and spreads 5 ft wide. They stop blooming only when frost hits them. To limit plant size and renew flowering stems, cut back close to the ground before spring growth begins. You can't go wrong with these plants if you have a large space to fill. Hummingbirds love them, too.
Perennials should be planted in multiples, not only for beauty's sake but also for lower maintenance. Let your trees and shrubs lend structure and year round interest with an explosion of perennial color that gets all the attention. Just don't hesitate to change what needs adjustment or transplanting if needed to a better location.