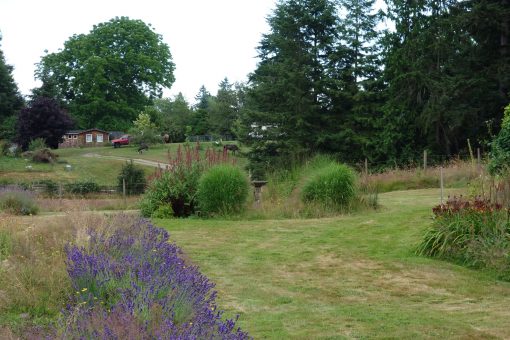 I was at a nursery the other day viewing the eye candy and saw some chocolate cosmos. Naturally I had to take a whiff. Chocolate cosmos looks and smells just like a dark chocolate bar. The warmth of the day released this delicious fragrance reminding me of a day spent several years ago on Whidbey Island in Puget Sound with my sister, Evan. She's no longer here, passing away 3 years ago this month, but the memories we shared at the Chocolate Flower Farm with be with me forever.
As a landscape designer I often get requests for certain colors to be included in the plant palette. Mahogany, burgundy, deep magenta and eggplant often make the list. Many people like dark flowers or foliage paired with ivory, others prefer peach or chartreuse. I marveled at all the combinations at the Chocolate Flower Farm.
In addition to chocolate cosmos, a wildflower called chocolate flower or berlandiera lyrata grew at the farm. I also enjoyed the fragrance of warm chocolate in the flowers of chocolate akebia, chocolate mint and chocolate snakeroot.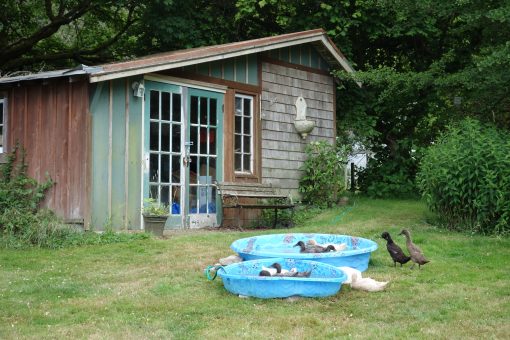 Strolling the grassy paths at the Chocolate Flower Farm I admired a Sparkling Burgundy pineapple lily. The foliage, nearly black, glistened in the sun growing next to a white-flowering Nine Bark called Summer Wine.
Nearby a clump of two-tone chocolate and ivory daylilies bloomed. With grazing horses nearby and a dozen ducks taking turns bathing in a kiddie pool the scene was idyllic. At every turn a different pairing of chocolate flowers and foliage caught my attention.
One section featured plants for a kid's chocolate garden. Easy to grow chocolate pincushion flower, chocolate viola, chocolate nasturtium, chocolate snapdragon, chocolate sunflower, chocolate painted tongue and, of course, chocolate cosmos would be fun for any child to have in their own garden.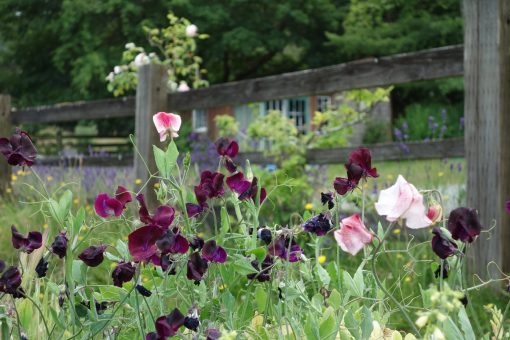 I loved a penstemon called Chocolate Drop as well as a Mahogany monarda the color of deepest magenta. Blooming black sweet peas grew up and and over an old bed frame. A dark purple-black clematis from Russia called Negritanka intertwined with lime green hops covering an arbor. Toffee Twist sedge, Royal Purple smokebush, Chocolate Sundae dahlia, Sweet Hot Chocolate daylily, Chocolate Plant and Hot Cocoa roses grew in many of the flower beds.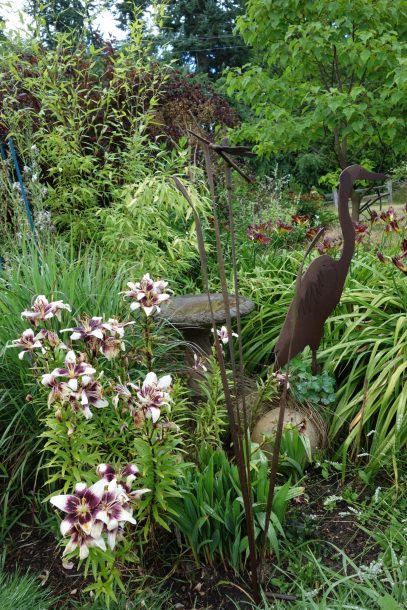 What makes dark foliage or dark flowers pop? At The Chocolate Farm each bed pairs the deep rich chocolate color with another contrasting shade. I don't know which was my favorite. One area featured peach, pink and silver to offset the darker shades. Pink dahlia and fairy wand, blue oat grass and rose colored sedum 'Autumn Joy' made a lovely vignette. Another bed paired the yellow flowers of phygelius 'Moonraker' and digitalis grandiflora with white anemone and ivory dahlias set among Chocolate Baby New Zealand flax.
Not to be ignored the dark chocolate shade of black sambucus growing next to a golden Himalayan Pheasant Berry made an impression. All-gold Japanese Forest grass at the base of dark leaved Tropicana canna lily was also a show stopper.
If you are up on Whidbey Island, the Chocolate Flower Farm is a great place to spend an afternoon. If your vacation plans don't include the Pacific Northwest, plant some chocolate in your own garden.