Who doesnít love to read garden magazines with all those beautiful photographs during the winter and dream about your gardenís potential. Ditto for all the gardening blogs on the internet that are written by some very talented people who seem to have more free time than most of us. Here are some trends for 2018 you might embrace.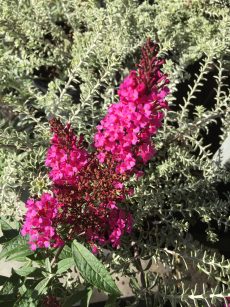 Most of us garden with a backdrop of mountains. Nature is all around us even if you live in a neighborhood with curbs. Some of the new trends will appeal to those who grow edibles while some will appeal to the gardener who loves their garden but doesnít have time to do a lot of maintenance. Whatís new this year is a return to some old fashioned ideas.
Embrace the smaller garden. You can create an instant meditation garden that encourages you to stop and sit for a couple minutes by placing a small bench where you can view something interesting in your garden. Small gardens are not only compact they are easier to care for. Containers on the patio or deck allow you to grow plants for food as well as for the birds and the bees. There are more new dwarf vegetable, herb and flower varieties being introduced every year.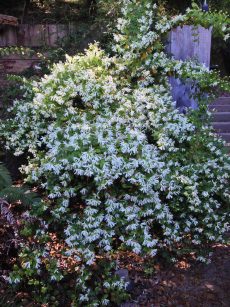 Many of us are removing overgrown shrubs and replacing them with water smart, easy-to-care-for plants that will stay the right size in smaller spaces. Nearly every plant these days has a compact version that is only half the size. Good reason to look again at some reliable old favorites with a new twist like loropetalum ĎJazz Handsí, abutilon ĎLemon Dropí, Buzz Hot Raspberry buddleja, dwarf pomegranate and crape myrtle.
A new version of the drought tolerant Grecian laurel bay tree is available now that will only grow to 6-8 feet tall in 10 years. Laurus nobilis íLittle Raguí adds that classic Mediterranean flavor to soups and sauces. When I moved to this area 30 years ago I made the mistake of using our native bay tree for a spaghetti sauce. Now I can grow the real deal and not ruin my sauce.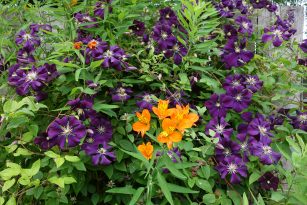 To create a sense of privacy, peace and quiet, enclose your garden. When a fence isnít possible or preferred, plant a deep bed of mixed low water, low maintenance shrubs as a screen. Vines, like clematis, grown on a trellis provide nearly instant privacy and enclosure. If the front of your house faces the street, a few well-placed shrubs can block the view into your home.
Other trending looks in the gardening world are to combine ornamental plants with edibles. Well, maybe this isnít new to you but itís a good reminder that your veggies donít have to be in a special raised bed or plot but can by planted throughout the garden. Think tomatoes, pole beans and other vining veggies trained on an metal obelisk within a perennial bed. Or compact versions of beans, eggplant, chard, hot peppers, tomatoes or edible flowers like nasturtiums planted among your other plants or along path borders.
Even if you're not redoing your whole garden you can plant a small section or vignette using a more toned down palette. Whether itís shades of pink or white or blue this look will give your garden a calm feeling.
Everything old is new again from old fashioned flowers, bicolor blooms, solar lights for the garden, sharing extra produce with neighbors and super fragrant plants.