Once Upon a Time in a place not so far away a group of kids gathered to learn about the art of bonsai. This group of home-schooled kids gather weekly at the old Redwood Elementary School in Boulder Creek on "outdoor day" to hike, craft and learn about nature.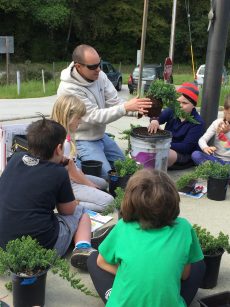 On this day, after returning from a morning hike, everyone was ready to get started creating their own bonsai. With the 29th Annual Exhibit of Santa Cruz Bonsai Kai club fast approaching on Saturday and Sunday April 8th & 9th at the Museum of Art & History in Santa Cruz, there was no time to lose and most of the kids wanted their newly created bonsai to be included in the show.
Former president of the Santa Cruz Bonsai Kai, Chris Howe, has been a long time bonsai aficionado dating back to the days when we used to work together at a local nursery. His daughter Gloria is in this class along with 12 of her 3rd to 5th grade classmates. Chris had an attentive audience as he related a short history of bonsai and gave a few tips for the kids to get started styling their own dwarf Japanese garden junipers.
If you've ever tried your hand at creating a bonsai yourself but didn't know where to start, Chris gave us all the perfect "rule" that the sensei masters use. "Imagine you are a tiny bird trying to land in a tree. Make some spaces among the branches and leaves so the little bird can land."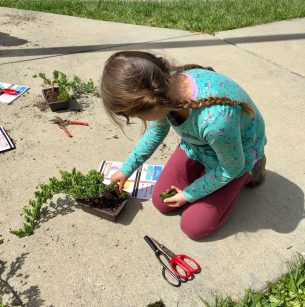 With this advice the kids got started on their one gallon junipers. All the plants and pots were donated for the class by the Santa Cruz Bonsai Kai club. Each child also received a free bonsai coloring book showing the different styles and techniques which was also donated to the class by the club.
The word bonsai comes from two Japanese words that provide the most basic definition of this living art form. "Bon" means tray or pot, while "sai" means to plant. One of the reasons we all admire bonsai is how old they look -appearing to be veterans of years of struggle against natural forces. Some are actually hundreds of years old and handed down in families while others just look very old and some techniques help further this illusion.
There is a technique called Jin which causes weathered-looking dieback on a branch and is created by stripping a branch of bark. When asked by Chris nearly all the kids wanted to have a branch tip or two crushed by pliers so they could peal off the bark. In nature, deadwood is created when a tree is hit by lightning, exposed to sustained periods of drought or when branches snap due to ice stress, wind or weight of snow. The wood dies off and is bleached by intense sunlight.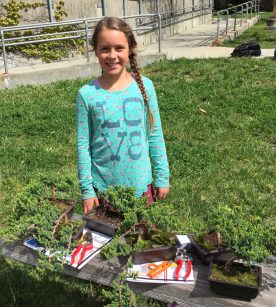 As living things, bonsai are always growing, leaves and stems being pinched, the branches wired into natural looking shapes, the trunks thickening. Chris showed the class one of his prized bonsai specimens and explained which techniques he used to style it.
Don't miss the upcoming 29h Annual Santa Cruz Bonsai Kai show Saturday and Sunday, April 8th & 9th at the Museum of Art and History at 705 Front Street in Santa Cruz from 10am -5pm each day. Entry fee is $5 per person to the museum and the show. Kids 12 and under get in free so it's a great way to spend the day.
Every plant sold or raffled at the show comes with an invitation to the monthly Santa Cruz Bonsai Kai club meetings where new enthusiasts are welcomed and nurtured.
Besides taking in the beautiful bonsai on display you can purchase finished bonsai and starter plants as well as get experienced help with trees purchased. There will be door prizes and refreshments. You might even win the raffle for the demonstration specimen created each day at 2:00 pm by Bonsai Master, Eric Shrader on Saturday or if you come to the show on Sunday created by Sensei Katsumi Kinoshita.