My ambitious plans to augment this garden here in Bonny Doon with California natives and colorful plants to attract birds and wildlife is not turning out exactly as Iíd pictured. I thought that I had licked my gopher problem by planting everything in baskets. Not so, now they just come up next to their plant of choice at night and eat whole thing from the top, dragging the rest down into their neat little hole while leaving the root still snug in its basket. Hopefully, some will regrow from the roots.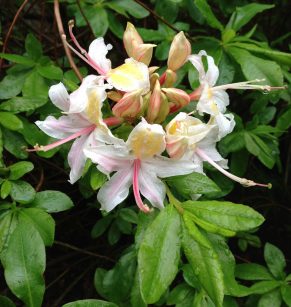 But Iím not giving up on planting for the birds and bees. Iíve got plans to increase my container garden collection. Gardening in containers is easy. I can control the soil, water and light and the gophers canít undermine my efforts. There are a lot of California native plants that do well in containers and Iím going to place them where both the birds and I can enjoy them.
For some of my largest containers Iíll choose from natives like Western Azalea, Deer Grass, Chaparral Pea or Giant Chain Fern. Any of the taller growing ceanothus and manzanita would look great too by themselves or combined with smaller growing plants.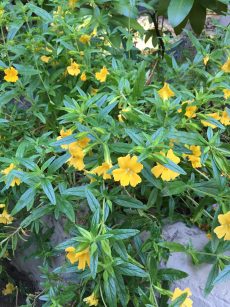 For small to medium containers I can use Conejo Buckwheat, Hummingbird Mint, Penstemon Heterophyllos, Mimulus, Woolly Blue Curls or Coastal Daisy, These combine well with colorful Lewisia, Dog Violets or Wild Strawberry.
I might combine a madrone with a Canyon Gray Coastal Sagebrush – Artemisia californica – which grows about a foot high and will trail over the side of the container adding beautiful gray color to contrast with the rich green of the other leaves. I also like the combination of California Hazelnut, Deer Fern, Redwood Sorrel and Wild Ginger.
Some of the most dramatic containers utilize the concept of combining a thriller, some fillers and spiller or two. Not all my containers will use this formula but I seem to be drawn to those that do. Plants in nature can be quite random in the way they grow together and still be lovely. Containers need a bit more order to dazzle and direct the eye.
Thrillers act as the centerpiece of a container. They are usually big, bold and beautiful. Giant Elk Clover is one such California native that is an attention getter. Chilopsis linearis-Desert Willow is another great subject for containers as it is slow growing and beautiful in leaf and flower. Other architectural natives that will catch your eye as the centerpiece of a container are Hibiscus or Rose Mallow and Pacific Dogwood. The thriller goes in the center of the pot or if your container will be viewed from only one side it goes in the back.
Next come the fillers. They can be foliage or flowering plants but they should complement and not overwhelm your largest plant. Usually they have a mounding shape and Iíll plant several around the thriller. Good fillers include Heuchera Maxima and Western Maidenhair Fern.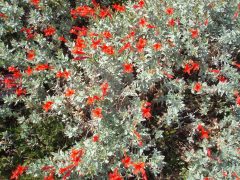 The last plants Iíll add are the spillers which are small and will soften the edge of the container. Redwood Sorrel, Wild Ginger and Minerís Lettuce are good choices. California Fuchsia would look spectacular with its red or orange flowers and grey foliage spilling down the side of my container.
The best overall soil mix for natives in containers sharp sand and horticultural pumice added to a good potting soil. Never use perlite or that puffed up pumice because it will float and look terrible. Happy Container Gardening.