My garden is alive with birds. Butterflies and bees also seem to find it an interesting place to visit. When I first moved up to this house in Bonny Doon the prior owners had hung a couple of small hummingbird feeders which attracted only a few hummers. Their plantings consisted of manzanita and ceanothus varieties. Both great plants to attract birds but not much diversity. It felt like I was living in a void without the sound of song birds or the whir of hummingbird wings. Itís taken me a season or two but between the new plants Iíve added and the seed, suet and nectar feeders Iíve hung throughout the garden I attract dozens and dozens of my winged friends.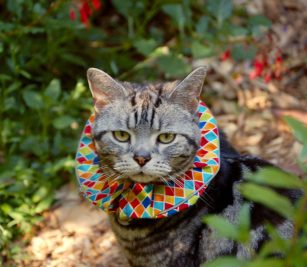 How is this all possible sharing the garden with two cats? I knew right away that I couldnít live with myself if I attracted birds only to have them endangered by Sam and Archer. As natural predators they couldnít help getting into trouble. The problem was solved by the brightly colored, clown-like collar from Birdsbesafe they each wear that makes them more visible to birds. Neither wore a collar previously but they donít seem to mind or notice they look like court jesters.
The birds in the garden are safe now or very nearly so and Iím happy too. Itís the height of breeding season and the birds are going nuts in the garden. Iím always on the look out for plants that will attract even more of these exquisite creatures. Fortunately there are many that have low water requirements which is a prerequisite these days.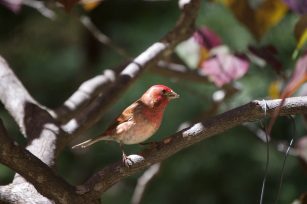 Trees that provide fruit, seeds, nectar and protein from insects attract many kinds of songbirds. Our native Big Leaf Maple is a favorite of the Evening Grosbeak who relish the seeds and early spring buds. Another bird magnet is the dogwood. Our Pacific dogwood as well as the Eastern dogwood and the hybrid of the two- Eddieís White Wonder- are all very valuable sources of food for many birds. Their summer berries of dogwood are high in fat and important for migratory and wintering birds.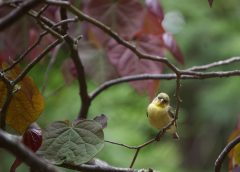 In every garden possible I try to include low water use shrubs and perennials that attract birds. My favorite Lesser Goldfinch is partial to the seeds of yarrow, buckwheat and aster. Kevinís mahonia is favored by Western bluebirds. Blooming now in our own neck of the woods is Mexican elderberry. Their butter yellow flowers will form purple berries rich in carbohydrates and protein and attract an incredible number of birds.
Both hummingbirds and butterflies are attracted to flowers that provide nectar. Among their favorites that wonít break your water budget are natives such as penstemon and salvia. I always can find space for another variety of salvia.
Galvezia, mimulus, monardella, California fuchsia and ribes are also important nectar sources for birds in your garden. Add a couple non-native, drought tolerant perennials like lavender, gaura, coreopsis, verbena, scabiosa, lantana and wallflower and youíll provide a feast for all your winged visitors.
Everybody loves winged creatures in the garden. Adding plants that attract birds, bees and butterflies is at the top of the list of requests for nearly every garden that I design.