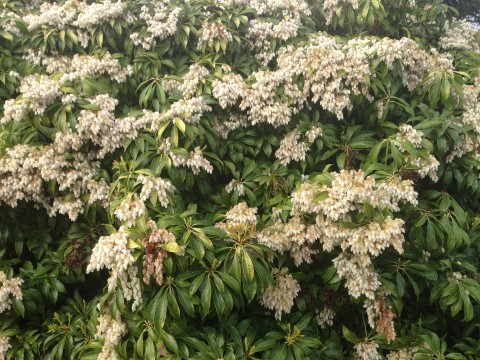 As a landscape designer I try to stay abreast of the latest plant introductions and trends in garden design. Many of these new plants work well with our backdrop of mountains and naturalistic settings. Some new trends will appeal to those who grow edibles while some will appeal to the gardener who loves their garden but doesn't have time to do a lot of maintenance. What's new this year is a return to some old fashioned ideas.
Many of us are removing overgrown shrubs and replacing them with water smart, easy-to-care-for plants that will stay the right size in smaller spaces. There are new compact and dwarf versions of old plants that have been garden favorites for a very long time. The reason they have endured is because they are reliable. Good reason to look again at some old favorites.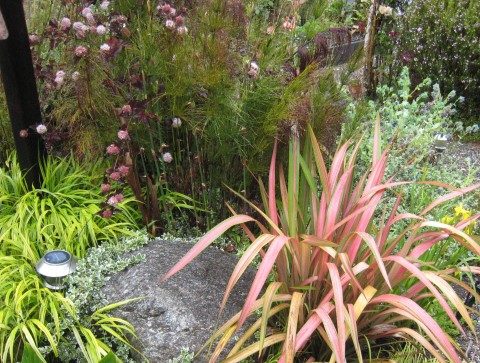 I've wanted to grow a Ninebark in my own garden but this beautiful deciduous shrub normally gets too big for my space. Sure I could prune it regularly but I don't want the ongoing maintenance to keep it the right size. Several new cultivars of physocarpus opulifolius are smaller while providing just as much drama. The varieties Petite Plum and Summer Wine both have that rich, dark purple foliage all season that blends so well with lime colored foliage or pink flowers. This mounding, fast growing, deciduous shrub is adaptable to difficult situations. It's easy to grow and tolerates drought once established. I can even cut the showy, soft pink flowers to bring inside. The flowers are followed by attractive seed pods making this plant attractive all season long.
A new version of the drought tolerant Grecian laurel bay tree is available now that will only grow to 6-8 feet tall in10 years. Laurus nobilis is the one that adds the classic Mediterranean flavor to soups and sauces. Little Ragu is compact and handsome in it's natural form or you can clip it into a formal hedge or topiary shape. When I moved to this area 30 years ago I made the mistake of using our native bay tree for a spaghetti sauce. Now I can grow the real deal and not ruin my sauce.
Other trending looks in the gardening world are to combine ornamental plants with edibles. Well, maybe this isn't new to you but it's a good reminder that your veggies don't have to be in a special raised bed or plot but can by planted throughout the garden. Think tomatoes, pole beans and other vining veggies trained on an metal obelisk within a perennial bed. Or compact versions of beans, eggplant, chard, hot peppers, tomatoes or edible flowers like nasturtiums planted among your other plants or along path borders. These can be planted from seed where they are to grow making them super easy to enjoy later on.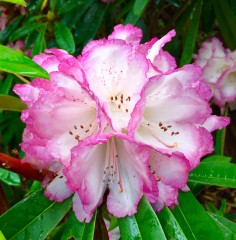 Even if you're not redoing your whole garden you can plant a small section or vignette using a more toned down palette. Whether it's shades of pink or white or blue this look will give your garden a calm feeling. Add a place to sit and you'll want to relax there with a book or beverage.
Everything old is new again from old fashioned flowers, bicolor blooms, solar lights for the garden, sharing extra produce with neighbors and super fragrant plants.