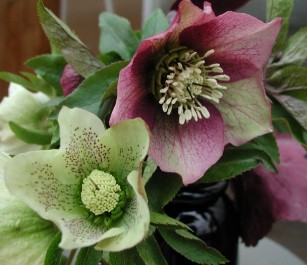 In these times of drought you gotta have a plan. There are lots of plants that require very little or no water after they become established. When advising clients or designing gardens I am keeping my go-to list even more in mind. Yes, it takes a couple of seasons for a plant to grow a large enough root zone to be able to withstand the dry conditions of summer but with a few tricks up your sleeve you can still have a garden that birds, butterflies and people can enjoy.
The past couple of years have really been a good indicator of which plants can survive without irrigation. Some do better than others growing despite the tough conditions while others kinda mope along waiting for the rainy season. This is where that 3" of mulch is vitally important. This protection holds in moisture, keeps roots cool and allows the mycorrhizal fungi to do their work.
Mycorrhizal fungi live in a symbiotic relationship with plants enabling them to extract nutrients and hold onto water in very difficult soil conditions. In effect, the fungus provides a secondary root system that is considerably more efficient and extensive than the plants own root system. Disturbing the soil by tilling and even hoeing reduces the number of mycorrhizal colonies as do chemical fertilizers. You can create a truly sustainable environment for your plants by encouraging these fungi as well as other soil microorganisms by using organic soil amendments and mulches.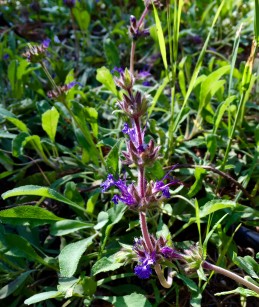 In my own garden I grow several plants that are doing quite well without irrigation. One is Bees Bliss Sage. a native California shrub that grows low to the ground. Mine is only 8" tall and several feet wide but it can reach 6-8 ft wide draping over rocks and walls. It has an extended bloom time from mid-spring to early fall with whorls of lavender-blue flower spikes. Bees, butterflies and hummingbirds all find it attractive.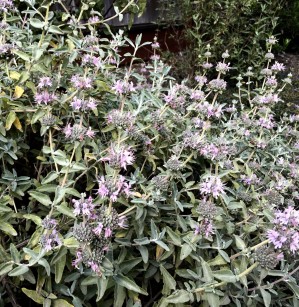 Another plant on my drought tolerant plant list is a salvia called California Blue Sage or salvia clevelandii. Right now it has just started its blooming cycle of electric blue-purple flowers. They will last until early summer. It survives without any supplemental irrigation but if I give it an occasional deep watering it looks more attractive.
Who doesn't like color in their garden? Mimulus or Sticky Monkey Flower blooms are showy and the hummingbirds love them. Although they are not long lived their deer resistance makes up for this shortcoming.
The Jelly Bean series has added bright pink colors in addition to white, orange, red and yellow but the traditional aurantiacus types are the most tolerant of drought.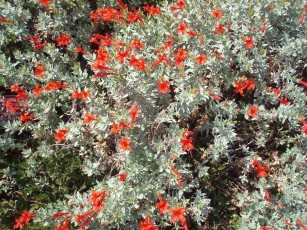 As summer comes along the California fuchsia will provide the color in the garden. I like it that they spread by underground rhizomes and self sow. Free plants are always welcome. I have them planted on a slight slope where they tumble over a rock wall. My bees and hummingbirds find this plant irresistable.
Other plants on my no water or little water list of include shrubs like cistus, bush poppy, ceanothus, fremontodendron, ribes, manzanita, rosemary, sambucus, santolina, Wooly Blue Curls, echium and prunus. Grasses like aristida or Purple Three Awn, Blue Gramms, muhly and nassela make good additions to the truly drought tolerant garden, too. Perennials that are successful in these conditions include Bears Breech, artemesia, helleborus, monardella, diets, echinacea, buckwheat, penstemon, romneya, watsonia and crocosmia.
These plants can be the rock stars of your garden, too. Although they can survive with no water after 2 years many look more attractive with a few deep waterings per summer. And don't forget the organic soil amendments and mulch ( no shredded bark, please ) to encourage the soil microbes.