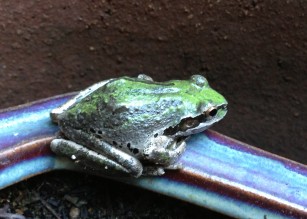 Reading about the new wetland pond construction at the Ben Lomond SLV Homeschool in The Press Banner this past October 31st has me thinking about a low spot in my own garden that becomes soggy during the winter. Most mornings and evenings I hear the resident Pacific Tree frog singing his heart out. Maybe I can encourage even more frogs as well as dragonflies, salamanders and toads by installing my own wetland habitat. There are a lot of landscapes that I encounter that also have a ďproblemĒ area with poor drainage and this would be the perfect solution. Iíve thought about building a wetland garden or bog garden for many years. This winter Iím going to do it.
The difference between a wetland garden and a bog garden is basically how long the water remains during the year. A wetland pond in our area is often seasonal, drying up in the summertime. A bog garden is damp even in the summer. A shady spot with a high water table is a good spot for a bog garden.
Wetlands are important to our ecosystem. One of the greatest wetlands in North America at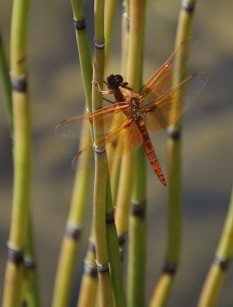 the southern end of the San Joaquin Valley has almost completely vanished. There used to be almost 5 million acres of wetlands in the Central Valley and now only a small percentage remains. This habitat destruction is causing the disappearance of birds, frogs, amphibians and other wetland wildlife. You can help encourage these species in your own backyard and grow plants that are beautiful, too. Every little bit helps.
Most wetland plants donít require standing water to grow successfully and will survive even in an area that appears dry most of the growing season. Many frogs including the Pacific Tree frog only need 3-4 weeks of water to lay eggs and the pollywogs to mature. Other frogs need a longer time to reproduce. The water need only be a little over a foot deep.
To create a wetland in an area that isnít naturally moist and has heavy clay soil you will need to lay down a waterproof, nontoxic liner and cover it with soil. For a bog garden add decomposed plant matter and peat, Branches and logs can be placed around the edges as perches for birds and dragonflies and provide a spot for turtles to bask in the sun. Winter rains provide the best water to fill your wetland pond. Frogs and other amphibians are extremely sensitive to chemicals in tap water. Wildlife will be naturally drawn to your wetland. If you build it, they will come, I promise.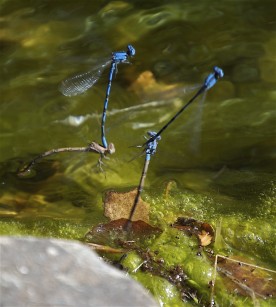 There are many wetland plants that grow quickly when the soil in wet and then die back when the soil dries up only to return when moisture is again present. Species like cattails and rushes will do well being common in wetlands in our area. The plants you select depends on the amount of light, the length of time the soil will be saturated and the depth or water. Native trees like Big-Leaf maple, Red Alder and Box Elder are good companions for a wetland garden as are shrubs such as Snowberry, marsh baccharis and Yellow-twig dogwood.
Other native plants include Stream orchid, Deer fern, Horsetail, Cardinal lobelia, Twinberry honeysuckle, Cardinal Monkeyflower, Woodís Rose, Blue Elderberry, Blue-eyed Grass, California Wild Grape and Giant Chain Fern.
Creating a mini-wetland in your own yard provides many of the same benefits that natural wetlands offer, providing habitat for creatures like butterflies, bees, salamanders, frogs and birds.