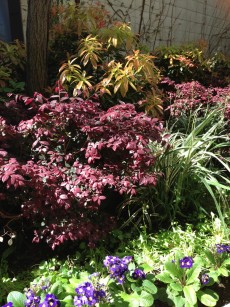 I love my smart phone. I canít imagine a day without it. A friend of mine told me that I would discover uses that I could only have imagined when I first got it. One of the simple things I use it for is taking pictures. Since I always have it in my back pocket I can whip it out in gardens, nurseries, in the wild or in any landscape that catches my attention.
It wasnít until I started photographing gardens that I realized the importance of combining plants. So now when I design a grouping of plants that look good together Iím thinking of strong foliage plants, colorful flower spikes alongside soft mounds of foliage and delicate flowers alongside bolder blooms.
With the first day of fall next week Iím thinking of ways that will have any garden bursting with interest for the next few months. These are strategies for combining plants that are adaptable to all types of garden conditions whether you live in the sun or the shade and will also look good in other seasons of the year.
A vignette is a small group of plants that make a pleasing scene because of their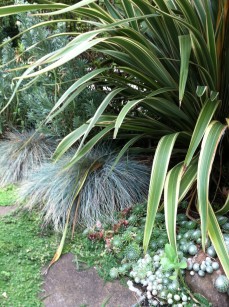 complementary and contrasting features. I have several lists of good plant combinations that I regularly refer to when designing a garden. I usually start with a strong foliage plant then add other plants that have interesting texture, form or color.
When you look at a garden that you admire itís usually the dramatic form of one of the plants that draws you in. When you use a plant with a bold, architectural form it makes a statement. The spiky foliage of Cream Delight phormium alongside a Burgundy loropetalum would make a good combination. Or how about creating a vignette of Festival Burgundy cordyline with Annabelle hydrangea and Cream de Mint pittosporum?
During the next few months plants begin to show soft, fall colors. Combine the fading foliage of these plants with plants that complement each other. The reddish fall color or Oakleaf hydrangea along with the pinkish-tan color of their fading flowers looks wonderful when combined with Japanese Forest Grass as it turns pink before winter. Another complementary fall combination is Royal Purple Smoke Tree surrounded by a bed of Autumn Joy sedum.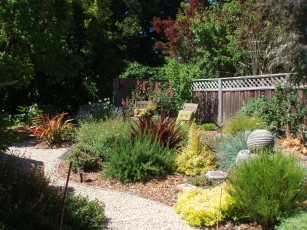 Strong colors sometimes contrast instead of blend when plants change colors in the fall. I like to tone down a combination with silver foliage. An example of this would be a plant grouping of Evening Glow phormium, sedum Autumn Joy and Glacier Blue or Tasmanian Tiger euphorbia.
Another way to create a great plant combination is by blending textures. Coral Bark Japanese maple and Plum Passion nandina work well together. Cistus Sunset with Spanish lavender and rosemary is another good combination. I also like a large mass of Blue Oat Grass and Salmon salvia greggii planted together. Santa Barbara daisy goes well with Red Fountain Grass.
My list of potential plant combinations is pretty long as Iíve made notes over the years. Each garden has its own personality and growing conditions. A hot, dry garden might depend on a ground cover ceanothus along with lavender while a shadier garden might use natives like heuchera maxima, iris douglasiana, yerba buena and salvia spathacea. Whatever plants you choose, let them work together to make exciting vignettes in your garden.