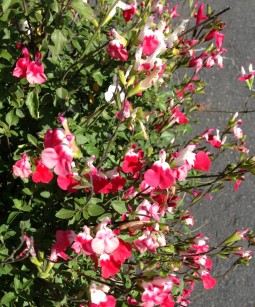 You can feel the weather changing as summer winds down. Itís more than just the passing of the Labor Day holiday and the school year starting. The nights are longer and cooler. The days are not quite so hot and the flowers in the garden seem brighter and more colorful. I look past the soft blue and lavender blossoms and am drawn to the warm shades of gold, rust, orange, hot pink and red. They shout autumn is on the way.
Thereís nothing quite like adding a few new perennials to brighten up the garden. There are many that donít require a lot of water after they become established. I recently visited a garden where the irrigation was reduced to the point that that most of the plants were barely hanging on. But there among the crispy plants were two Hot Lips salvia blooming as big as you please. This plant is popular for a reason. Hummingbirds, butterflies and bees love it and it blooms for a long time. It stays compact and is a great carefree shrub for water wise gardens.
Daisy flowers always bring a smile to my face. As members of the composite family they have
a flat landing surface for butterflies to land on. Coneflowers are one of my favorites. When they start blooming in the early summer I enjoy them both in the garden and as cut flowers inside. Some have a slight fragrance. Hybridizers have introduced beautiful shades of gold, yellow, orange, burgundy and coral in addition to the traditional purple and pure white. Because they are dormant in the winter they are good candidates for the garden that has summer sun but winter shade. They are not attractive to deer and are good additions to the low water garden.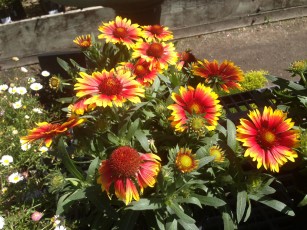 Another perennial that blooms throughout summer and fall is gaillardia also known as blanket flower. Iíve seen this tough plant grow in neglected gardens that the owner swears does nothing to keep it going. They are covered with dozens of large reddish-orange flowers with yellow edging and bloom over a long period. This plant also attracts butterflies. You can start perennials from seed at this time of year for next yearís bloom.
Don't overlook the color of other foliage plants like Orange Libertia, Abelia ĎKaleidescopeí, New Zealand flax, red fountain grass and Japanese bloodgrass in the garden.
Now through October, divide summer blooming perennials like agapanthus, coreopsis, daylily and penstemon that are overgrown and not flowering well. You can also divide spring blooming perennials like candytuft, columbine, astilbe, bergenia and bleeding heart but sometimes they don't bloom the first spring afterwards due to the energy they use re-establishing themselves.
Another thing to do while out in the garden this month is to cut back berries vines that have produced fruit. Canes of the current season should be trained in their place.
Spider mites are especially prolific during hot, dry weather. Sometimes you don't even know how bad the infestation is until all your leaves are pale with stippling. Periodically rinse dust and dirt off leaves with water. Spray the undersides of infected leaves with organics like insecticidal soap switching to neem oil if they build up a resistance to one of the pesticides.
Soon it will be time to start cool season veggies or plant cover crops in the garden. Itís never too soon to start planning for erosion control in those areas that caused you problems during last springís storms. But for now add some early fall color and have fun in the garden.