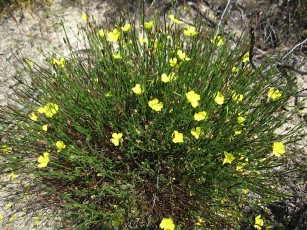 I hike in the Bonny Doon Ecological reserve quite often but had never seen the waterfall. Since the Martin fire in 2008 I have written several columns about the remarkable comeback nature can make after a natural catastrophe. Each spring I eagerly await the new growth of manzanita, chinquapin, pine and the spring flower display. Recently I joined a group led by botanist and revegetation specialist Val Haley, who has been a volunteer at the reserve since 1993 and knows just about everything there is to know about this unique place on the planet.
During the Miocene Epoch which started about 23 million years ago and lasted until 5 million years ago, the global climate warmed. Plant studies show that by the end of this period 95% of modern plant families that reproduce by seeds existed. The soils in the reserve are a marine sediment and sandstone from an ancient sea that once encompassed California's Central Valley. As the Santa Cruz Mountains were uplifted, the seabed and shoreline terraces were exposed and are known as the Santa Cruz Sandhills. This soil, called Zayante, is almost 90% sand and contains little organic matter. The Sandhills in Bonny Doon and other spots in our county are found no where else on earth.
On a beautiful Saturday afternoon, Val was excited to share her knowledge of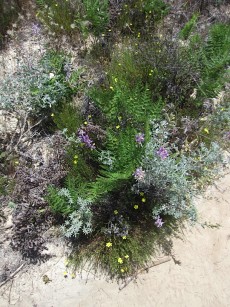 the rare and endangered plants that have adapted to the sandhills. We enjoyed observing acorn woodpeckers visiting their granary in a Ponderosa pine and the bushtits eagerly eating manzanita berries. Along the trails we identified scat from some of the resident animals like coyote but didn't see any evidence of Santa Cruz kangaroo rat. But it was the remarkable regrowth of the manzanita and pine and of the colorful wildflowers that got most of our attention.
There are several manzanita species living in the reserve and each has a different strategy of reproduction. Standing near a large burned out Silverleaf manzanita specimen, Val told us that this variety spreads its seeds outward from the trunk and with the heat of the Martin fire have sprouted in impressive numbers. Other varieties like the Brittleleaf manzanita are crown spouters and have regrown from their base. These new shoots are bigger and more vigorous than the seed spouters. Later we sought the shade of a live 20 ft Silverleaf manzanita. With a trunk of 12″ in diameter, Val estimated that this tree was about 200 years old. "They get much larger up here than at Quail Hollow". she said. "And the berries make a really nice cider".  I'll have to try making some.
Mimulus lined the trail covered in bright orange blooms. Their common name is monkey flower and Val told us she is authorized to collect their seed for revegetation projects. She places the seed pods in a box and then walks over them. It's my "monkey flower walk", she laughed. Interesting to note that with the rise of genetics many plants have been reclassified and renamed. This drought tolerant plant is now diplacus. Seems with all these name changes many of us are using common names more and more.
We found a small stand of the endangered spineflower. 'Not as many this year", she told us. Some years they will carpet open areas with small dusty rose flowers. The bush poppies were in full bloom. I was surprised to hear that they weren't as prevalent in the sandhills until after the fire. The succession of plant life and how it paves the way for the next generation of plants is always being studied. It's wonderful to witness firsthand.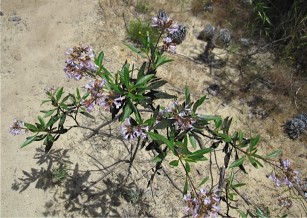 Our area has a rich history of native people who lived here before us. Val enjoys sharing her knowledge of the old ways to be passed on to the next generation. Yerba santa grows everywhere in the reserve. Covered now with lovely lavender flowers, Val told us its the leaves that have long been shredded and steeped into a tea. Naturally sweet it's a vasodilator and traditionally used to help with respiratory problems like bronchitis, asthma and colds.
The wildflowers may not be as plentiful this year due to the drought but we were treated to many little gems. Peak rush rose, a rockrose relative, bloomed with tiny yellow flowers. Purple gila flowered near the endangered Ben Lomond wallflower. Western azalea were just finishing their bloom cycle in a moist swale going down to Reggiardo creek. Blue dicks, silver bush lupine, sky lupine and a California poppy of a distinct genera and sporting a deep yellow color lined the path.
At the Reggiardo creek we saw dozens of flowering plants surrounding the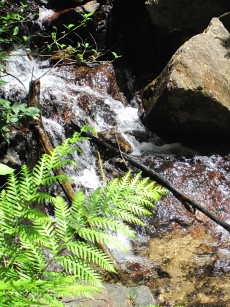 falls, including heuchera, ceanothus papillosus, saxifrage, redwood sorrel, redwood violets, deer fern and Western burning bush.
My day at the reserve was filled with beauty and new found knowledge thanks to Val Haley, her expertise and her wonder-filled spirit. If you would like a preview of what you may see when you go visit the website-
http://www.inaturalist.org/places/bonny-doon-ecological-reserve