In our neck of the woods we could change the iconic saying inscribed on a New York Post Office that reads  "Neither snow now rain nor heat nor gloom of night…"  to "neither drought nor freeze nor wind can stay the coming of spring".  Spring is everywhere whether we are ready or not. The birds are announcing their presence in anticipation of the breeding season. Early blooming Saucer magnolia are covered with huge pink and purplish flowers. Daffodils are already opening.
There's not a more important time of the year to have flowering plants in the garden. The restorative benefits of growing things is astonishing. They soothe the soul and refresh the spirit. Here are some plants I like to plant in my own garden as well as recommend to others.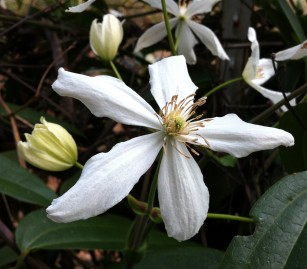 Scented flowers are nature's way of rewarding pollinators with nectar and people with smiles. One such plant blooming now is the vine, Evergreen clematis or clematis armandii.  Most books say it can thrive on occasional summer water, defined as every 10-14 days during the dry months, but I've seen established vines bloom in spots that receive no supplemental summer water at all. The vanilla fragrance of the creamy white, star-shaped flower clusters is fabulous, their heady scent filling the air. This vigorous, cold hardy, evergreen vine has foliage that emerges bronze colored and then matures to a glossy dark green. It's a great choice for filling a large space.
We've had a little rain but I still think it's a good idea to concentrate on plants that need only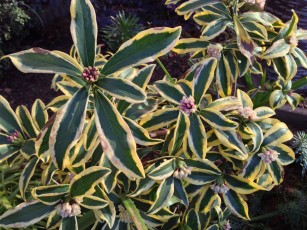 occasional water during the summer months or drought tolerant species that can thrive with water 1x per month. A good plant choice that fits the bill is Variegated Winter Daphne. Daphne odora 'Aureomarginata' is evergreen and wonderfully fragrant. This deer tolerant shrub is good looking year round and does well under the shade of small trees. Although many daphnes are tricky to grow, this one is adaptable and easy to please. During the summer water it as infrequently as the plant will allow. Little or no water in summer will reward you with clusters of fragrant purple flowers that start opening at this time of year.  Cut them to bring inside with hellebore and euphorbia for a pretty bouquet.
For May fragrant flowers try daphne burkwoodii 'Carol Mackie' which is also easy to grow and requires only occasional water as does daphne transatlantic 'Summer 'Ice'. Summer Ice produces sweetly scented flowers for an extraordinarily long time. Flowering begins in early April and can continue as late as November.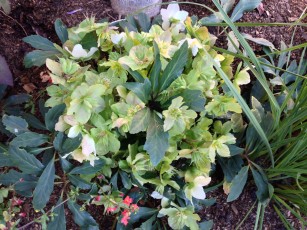 Helleborus is one tough plant. Also called Lenten Rose this extremely cold hardy, deer tolerant perennial blooms in the dead of winter. It looks especially good planted under winter and early spring flowering deciduous shrubs like witch hazel, viburnum, red or yellow twig dogwoods. Cut foliage to the ground in December so that flowers are displayed unobstructed.
Other drought tolerant plants in this family include the Corsican hellebore which is the largest of the hellebores. Creamy, pale green flowers float above leathery, evergreen foliage. This hellebore is tough and long lived if left undisturbed. It will grow in sun or shade and prefers a well drained or sandy soil but will tolerate clay if drainage is good. Once established it is fully drought tolerant.
Helleborus foetidus is also called Stinking hellebore but don't let the name fool you. Only if you crush the leaves or stems do you get a strong chlorophyll smell which makes the plant unattractive to deer. The flowers last throughout the winter. This unique plant is the only plant discovered to date that uses yeast to produce heat.
Rounding out the short list of low water use, winter flowering plants are vine maple, berberis thunbergerii, euphorbia characias wulfenii, iris pallida, ribes sanguineum, huckleberry, forsythia, witchazel, azara microphylla,  western wild ginger and rosemary.