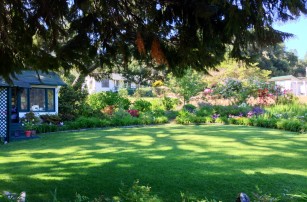 Visiting gardens is one of my passions. Wherever I travel I take time to enjoy an arboretum or a historical garden wherever I find them. Local gardens can be just as exciting and recently I was invited to stroll and marvel under majestic oaks in a beautiful garden near Quail Hollow.
This 25 acre property was first developed by an Englishman in the very early 1900's. After building an Italian Mediterranean style house featuring plenty of earthy materials such as terra-cotta paver floors and patios, red clay tile roof, stucco walls, rustic wood beams and enclosed outdoor spaces, he set out to landscape the property.
A spring fed creek provides water to a woodland garden with 40 foot rhododendrons still thriving and in full bloom during my visit. Western azaleas scented the air and the horsetail, columbine and white calla lily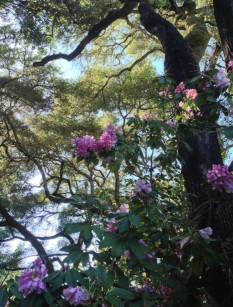 grew lush in the moist soil. The original owner built Japanese inspired stone bridges over the creek, the remnants still poking through the ferns.
Huge stands of black bamboo and golden bamboo border the creek in another area making me wonder if perhaps he became interested in these exotic plants after the 1915 San Francisco Panama-Pacific Exposition that showcased plants from all over the world. The current owners have installed a 3 foot barrier to keep the bamboo in check. Now towering 25 feet tall, the black bamboo shades the house on the south side with stems 2" thick.
The property passed from the original owner to a concert pianist who lived there until she died. The current owner bought the property in an estate sale in the early 1970's. When he married Nancy 23 years ago the garden again came to life. The front yard which had been a flood-irrigated horse pasture was transformed into the magical place it is now.
Nancy is the perfect steward of the land. Interested in all growing things she has surrounded the lawns with shrubs, perennials, grasses and flowers of every type. Sunny borders bloom with trellised Cecile Brunner roses, pink clematis montana and purple Jackmanii clematis along with lots of bright red climbing roses. By providing support, Nancy has even coaxed Apple Blossom and other carpet roses to bloom off the garden floor.
In addition to her gardening successes, Nancy shared her ongoing nemesis. Every year she said she hand picks at least a hundred white gaura that have self-sown. Seems Siskiyou pink is not as prolific. The crocosmia Lucifer have overtaken one bed and she begged me to take some. I politely declined. Her white Japanese anemo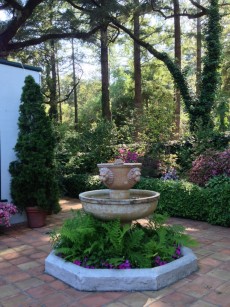 ne threaten to march into the lawn but the pink variety is better behaved. Nancy takes it all in stride. You can feel her love of gardening and plants at every turn.
Nancy loves perennials. The chocolate cosmos were just emerging but the double coreopsis, Spanish and English lavender, Moonshine yarrow, Japanese iris, douglas iris and columbine were in full bloom. In a shady spot by the old icehouse daphne, azalea and pieris had just finished their show. The hydrangeas were all budded and ready to take over the spotlight.
We walked through a lovely enclosed courtyard complete with formal fountain and Nancy pointed out containers of gardenias, Evergold carex grass, a deep red Bob Hope camellia and huge woodwardia ferns. She planted the rhododendrons bordering the courtyard over 20 years ago. A gopher did get 3 of the camellias last year but she's now replanted in gopher baskets. Her Japanese maples, started from seedlings, are now 6 ft tall with trunks over an inch thick.
I'll never forget the afternoon Nancy shared her garden with me and Sherman, the springer spaniel I was dog-sitting. It's an enchanting place and I'm looking forward to visiting again.