We wait all winter for the weather to warm up. At last it finally arrives and all we want to do is sit in the shady spot in the garden where it's cool. What plants can thrive in the shade? What plants can survive a location that is very dark during the winter and then gets only slightly brighter shade during the growing season? These are tough conditions for most plants but I have my favorites that have endured over the years and still bounce back each spring to bring color to my garden.
The sound of rustling leaves is soothing to our ears. But many of the ornamental grasses that sway in the breeze don't survive in shady locations. One that does is Japanese Forest Grass. There are several varieties of hakonechloa that can brighten a dark spot by your favorite lounging chair. Aureola has the classic bright gold and lime green striped leaves. Last year a friend gave me an All Gold variety that is equally beautiful. I love the way each graceful leaf tumbles toward the light reminding me of flowing water.
Japanese Forest Grass are not invasive. They are easily divided to increase your collection or share with fellow gardeners. At season's end these grasses turn pinkish for about a month before taking on winter's tawny color. In January cut off last years growth and within a very few months new growth emerges fresh and bright.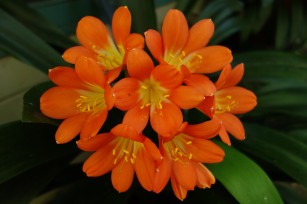 A plant that makes a fine background or small accent tree for a partial shady spot is Double-File Viburnum. Related to the popular snowball plant, the Mariesii viburnum blooms in the spring. Creamy, white lacecap flowers form in a double file along each horizontal branch and is how this showy shrub got its name.
The white flowers look great in a moon garden and are attractive to butterflies during the day. After blooming bright red berries form providing food for many birds. Truly a plant for all seasons, in the fall the foliage turns red or purplish.
For dry shade try growing Kaffir liy ( clivia miniata ). I've got a bright orange blooming Belgian Hybrid and an intense, deep red-orange Flame variety. Actually, I have many clivia as they divide so easily and bloom in fairly dark shade. Beautiful, robust green strappy leaves are handsome year round but the dozens of flowers clusters, some containing as many as 60 flowers each, brighten up any area. Drought tolerant once established they make a gorgeous accent, border or container specimen.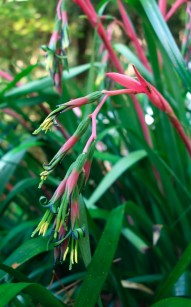 Chinese Ground Orchid ( Bletilla striata ) is another of my favorites plants for shade. A natural companion for ferns and wildflowers, this plant is tougher than it looks. Vivid, magenta blooms resembling small cattleya orchids emerge on long stalks for about 6 weeks in the spring. They like moist conditions and do well in pots.
Every spring I look forward to the unique flowers of my Queen's Tears billbergia. This pineapple relative makes a vigorous, deer resistant groundcover under trees without becoming invasive. Exotic looking rosy-red spikes are topped with drooping pink, blue and green flowers that look like dangling earrings. Insects never bother them. Give them a little water now and then and forget them. They're that easy to grow.
I use all of these tough plants in designs for shady gardens because I know they will thrive, look beautiful and provide color. If you have a garden that gets little winter light these are the plants for you.