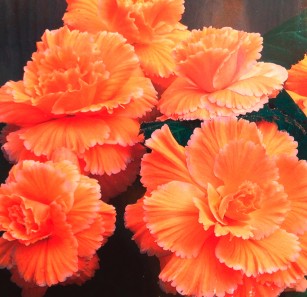 A couple of warm days and I'm ready for spring. Good thing the vernal equinox got the memo. Spring officially started March 20th. The longer days that we get during Daylight Savings Time makes my spring fever complete. I look at my garden and the Easter egg colored daffodils, narcissus, tulips and hyacinths and never want the show to end. By planting summer bulbs now I can get just that.
Think of cutting brilliant flowers for bouquets during the summer, combining them with a couple stems of mother fern and a sprig of late flowering wisteria on the dining room table. There are so many summer bulbs to choose from and they live over to increase in size each year. Here are just a few of my favorites.
Tuberous begonias make a spectacular show in bright shade or a morning sun location. Their flowers are so huge and brightly colored they put on quite a show. Upright varieties are easy to grow in the ground if you have good drainage. Otherwise, either dig up the bulbs to overwinter in the garage or plant in pots that can be placed under an overhang to spend the winter with dry feet. Those jewel-toned hanging begonias start blooming during the summer and continue until fall. The 61st annual Begonia Festival in Capitola takes place over Labor Day weekend if you want to see them up close and personal.
At Easter time we see tall, white calla lilies blooming everywhere. They make great cut flowers and are deer resistant but I especially like the smaller colored varieties that bloom a little later in the spring and summer. Many years ago we were impressed with the yellow and pink ones that were being grown. Then came the rusty orange ones and now you can buy calla lilies in black, lavender, plum and flame red. I especially like a two-tone deep rose and burgundy one called Dark Eyes.
Dahlias are another deer resistant summer bloomer. One visit to the dahlia competition at the county fair and you'll be wanting several giant dinner plate dahlias in your own garden. Dahlia flowers come in many forms. Cactus dahlias have a starburst shape. Ball dahlias are large, perfect formal types that make superior cut flowers. Then there are dark-leafed varieties and powder puff dahlias as big as dinner plates. Karma dahlias were developed by the cut flower market in Holland because of their extraordinarily strong stems and almost iridescent colors.
Daylilies come in so many colors these days you'll run out of room in the garden for all of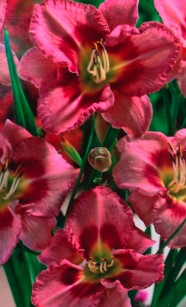 them. There's a dark rose and burgundy variety with a yellow throat that I have my eye on called Always Afternoon. Daylilies provide long lasting color in the garden and naturalize easily. All are good cut flowers but be careful if you have cats. Some flower varieties are toxic for cats although they are non-toxic to dogs.
If you don't have any freesias in your garden you should. This fragrant flower blooms in March right along with the daffodils. The old-fashioned favorite, a white variety called freesia alba, has a rich sweet scent. Freesia hybrids come in all the colors of the rainbow and are deer resistant.
We've all gotten Stargazers lilies in a bouquet that seemed to last forever. Grow your own to bring inside during the summer. Salmon Star is an Oriental lily hybrid of the original Stargazer and equally beautiful. Asiatic lilies, Trumpet lilies, Tiger lilies also make good cut flowers and are easy to grow. Keep flowers away from cats. Dogs are okay.
Don't forget about adding some new gladiolas for that summer bouquet or deer resistant crocosmia in one of the new deep apricot and red combinations. Or how about Ixia or African corn lily or brodiaea for the cutting garden?
Bulbs are super easy to grow. I always design some into a garden for their color and fragrance and you can, too.