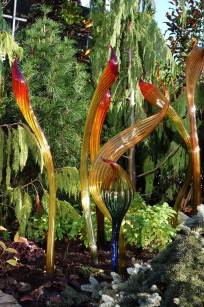 Recently I visited a garden of glass and it was spectacular. At the base of the Space Needle in Seattle, the newly opened Chihuly Garden and Glass Exhibit is a marriage of garden and art like no other I've ever seen. To experience larger-than-life blown glass in vibrant rainbow colors nestled among trees and shrubs was magical. I was transported beyond the ordinary to the extraordinary.
You may have seen some Dale Chihuly glass art at the DeYoung Museum when it was displayed there several years ago. Some of the pieces were influenced by Pacific Northwest American Indian art, others reminiscent of plants and sea forms. In a PBS special currently airing called Chihuly Outside, I learned that his love of blown glass has evolved since 1995 from installations in glass houses in Europe and the U.S. to massive outside exhibits in Finland, Venice, Japan, Australia and Jerusalem. The Chihuly Gardens and Glass Exhibit in Seattle is his most ambitious project ever.
Soft winter sunlight backlit the glass art that seemed to sprout up from the earth. Evergreen magnolia trees, pines and weeping cedar formed a dark green backdrop for the vivid blue, red, yellow, orange, mauv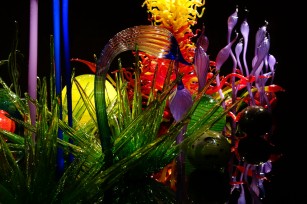 e and chartreuse blown glass. Coral Bark maples echoed the same shade of glass reeds and spears. Red Twig dogwood sported a stand of fiori or flower inspired glass. Cobalt glass spheres reflected the Space Needle nearby. Swaths of steel blue eryngium or sea holly were still blooming a bit complementing the ruby glass behind.
Seattle is cold in the winter with lots of rain (sound familiar?) so plants appropriate to the site and climate are a must. Lily-of-the-Valley shrubs provide year-round interest. Their burgundy flower buds hung in clusters ready to open in the spring. Mahonia, which are native to our area also, bloomed with spikes of yellow flowers attracting hummingbirds that over winter in the area. Helleborus or Lenten Rose held tight flower buds just waiting to open. Sasanqua camellias in pink, rose and white popped with color.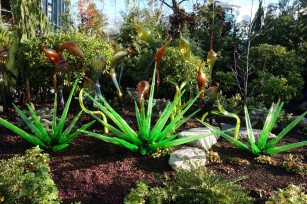 Lots of burgundy coral bells carpeted the ground in front of massive logs that looked like petrified wood. I had to check for myself. Mondo grass, epimedium, strawberry begonia and Japanese Forest grass complemented more flower inspired glass art. Strolling the garden and looking at the glass from different angles as the changing light filtered through was awesome. Chihuly doesn't so much mimic nature as borrow inspiration from it. As with all art, it's in the eye of the beholder and I fell, hook, line and sinker under its spell.
This garden of glass reminds you of frog legs with webbed toes, anemones waving in the incoming tide, towers of tall ti plants. Harmonizing plants and art is the creation of designer Richard Hartlage. Conifers, evergreen grasses, small shrubs and ferns set off the brilliant glass art. A green roof can be seen from above,a green screen of evergreen clematis encloses one side and large crape myrtles provide beautiful winter bark that blends with the lavender and burgundy glass sculptures.
A visit to the Chihuly Garden and Glass exhibit in Seattle was a day spent with light and glass and the plants that make them sparkle. I hoping to see this garden next July when the asters and rhododendrons are in bloom. Even in the quiet months of winter it was spectacular.