Walking around my neighborhood I see neon red fall foliage at every turn. Japanese maples covered with vivid red, bright orange or yellow leaves steal the scene wherever they grow. Surrounded by greenery Canadian redbud now pop with burgundy and yellow color. Flowering dogwood look like they're on fire. Because we live among so many trees and shrubs that stay evergreen in winter, fall color is especially important for us. What plants put on a good show in our area?
We are all familiar with the brilliant fall color of Japanese maples. Bloodgood is probably the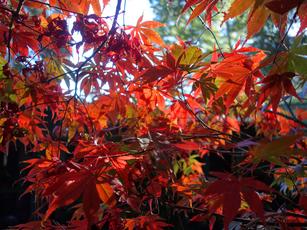 single most popular upright purple-leaved variety seen in gardens. Beautiful in color and form, it's easy to grow and fits nicely in the smaller garden. Mine is covered with glowing red foliage now even though it grows year round in the shade.
My Coral Bark Japanese maple has had glowing golden and red foliage since early September. It's one of the earliest to start coloring in fall and make quite a statement in the garden when combined with warm-toned plants like heauchere 'Creme Brulee'. I love this tree as it grows more upright and looks great near an entry as an accent. That luminous spark of lighter color is beautiful next to the deep reds of the other trees.
I surveyed some fellow designers for their favorite fall color varieties and found another Japanese maple favored not only for fall foliage color but the purple leaf color maintained during the summer even in hot situations. Called Red Emperor it's a moderate grower to 15 ft tall and wide. Like other Japanese maples it needs regular watering-weekly or more often in extreme heat especially during the first growing season to establish a deep, extensive root system. Watering can be reduced after establishment. Keeping mulch over the root zone is vitally important in our hot summers. Japanese maples look dramatic when planted with Japanese Forest grass, deer fern, flowering cherry and coral Bells.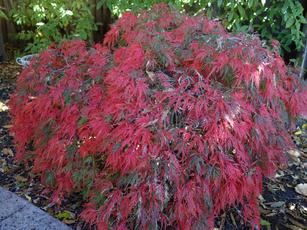 Another favorite of mine for fall color is Crape Myrtle. You see them covered with large, colorful flowers starting in summer and lasting through fall. They are planted everywhere for good reason. Easy to grow and fast growing they take heat or cool coastal conditions. They are not fussy about soil and ask only for deep but infrequent watering. As if the flower color weren't enough to attract you, they absolutely glow in the fall with shades of red, orange and yellow. I'm partial to purple flowers so varieties like Catawba, Muskogee and Zuni top my list. Watermelon red and other bright red flowering varieties are also popular.
A great tree for the gardener interested in edibles is the Fuyu persimmon. This beautiful small tree is ornamental with glossy green leaves and also offers a dramatic fall display in shades of yellow, orange and red. Bright orange fruit begins to develop in late October and clings to bare branches usually through December. The tree looks more like it's covered with holiday ornaments than fruit.
Chinese pistache is a good tree for a patio, lawn or streetside. They can get by with almost no water but will tolerate lawn watering if drainage is good. Luminous orange to red fall foliage color is reliable even in mild winter areas. They are usually grown from seedlings. When you buy one, it might be either male or female but a male tree without berries will develop better color.
Other trees with vivid autumn color that also do well in our area include red maples like October Glory and Autumn blaze, liquidamber, ginkgo, ornamental pear, cherry or crabapple, dogwood, goldenrain, locust, katsura, oak, redbud, sumac. All add to the fall drama of the landscape.

Now through late fall is a good time to shop for trees that change colors because you can see in person just what shade of crimson, orange, scarlet or gold they will be. I'm off to the eastern side of the Sierra to see for myself the Black oak and Quaking aspen fall color.