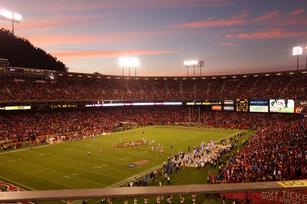 I attended the first Forty Niner home game of the season thanks to my Aunt Rosemary. I'm a Niner "Faithful" but it sure is fun to be on the winning side after so many years. At the football stadium everything seems really bright and colorful. I'm always amazed at how lush and green the field looks. How do they do that?
If you have a small lawn you can appreciate how the caretakers at Candlestick Park accomplish this. Be grateful you don't have 110,000 square feet of grass that is replaced annually. In some years, due to inclement weather of abnormal wear-and-tear, the sod may be completely replaced a second time near the end of the football season. The grounds crew mows the field every day to encourage the grass to continue growing and remain vigorous and they fertilize approximately every 10 days. The sod they use is called Tiffway II Bermuda which is a hybrid of bermuda with perennial rye.
The Forty Niners will be moving to the new Santa Clara stadium next year and it also will have a natural grass field. Green technology will be a top priority. The landscape and field will be irrigated with recycled water and a green roof constructed on the roof of some of the suites. I don't know now which type of turf they will plant but it'll be interesting to see what they choose.
At your own home, fall is the best time to feed your lawn for winter hardiness and robust growth come spring. Grass stores nutrients in the roots to carry it over the winter months, so apply a generous application of organic lawn fertilizer.
Your lawn will need the phosphorus to encourage deep, strong roots for winter.
Over time, soil becomes compacted, especially is areas that get heavy use. Consider aeration that opens up the spaces in the lawn to allow water, nutrients and air to get to the roots, making it thicker and healthier. It also helps drainage and water runoff. There are aerators for every size job just make sure it's a core aerator that removes the core of soil rather than just punching narrow holes in the ground. Once aeration is complete, it's the perfect time to top dress the lawn with a half inch of organic compost..
If you can see patches of bare soil in your lawn, it needs to be over-seeded and fall is the perfect time to do this. Over-seeding helps make lawns full and dense, keeps weeds down and helps prevent disease. First remove any thatch- that layer of dead grass and debris that settles on the soil. To loosen the thatch, use a stiff-tined rake or rent a power de-thatcher for large jubs. Then simply rake it up and recycle it.
Just before over-seeding, mow the lawn at the mower's lowest setting and rake the surface clean. This allows the new seed to have better contact with the soil for good germination. Water often and never let the seed dry out. After the new grass blades have had a while to grow, you can mow the lawn at the mower's highest level. This minimizes the stress on the young grass blades as they settle in. Also keep debris off the area so the new blades can absorb as much light as possible.
This is also a good time to plant a new lawn either from seed or sod. There really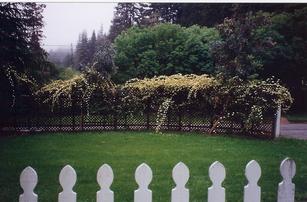 is no other surface that kids can play on that is as durable. There are lots of choices for low water types, including the variety that Candlestick park uses. Other common grass mixes are blends of dwarf tall fescues. If you train your lawn in late spring to encourage deep roots most lawns don't need as much water as we think come summer.
Be sure to amend your soil first with plenty of organic matter rototilled 6-12" deep. Skimp on this step and your new lawn will look great usually only for the first season. Like sowing wildflower seeds, you need to first get rid of existing weeds and their seeds. Also incorporate a pre-plant fertilizer raked in the top few inches of soil to get your new lawn off to a good start.
If you need a small lawn, take care of it this fall and make it as healthy and drought tolerant next spring as possible.