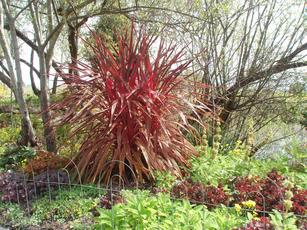 Have you ever wondered what it would be like to start your own little nursery on your property? What would you grow? How would you decide? Over the years, I've been asked by home owners with a bit of extra property what would be good to grow. What is there a market for? So I decided to ask some friends who trial plants on their Watsonville property and operate a small nursery there how it all works.
Terra Sole Nurseries was founded in 2004 by John and Sherry Hall with the goal of experimenting and growing native, unusual and drought tolerant plants that are adapted to our dry summer climate. "We push the limits on water use in our test garden until we fall too much in love with a plant and can't bear to see it die with our tough love approach", Sherry said as we talked about the their operation.
Just back from attending the California Spring Trials, Sherry and John were excited to share how they decide what to grow In their nursery. Their focus is to grow a large variety of native and unusual plants, some of which are old-fashioned, some are hot new introductions. What treasures did they find this year?
During the course of a week at the Spring Trials, the world's prominent plant breeders, propagation specialists, growers, marketing professionals and plant enthusiasts share the latest and greatest at several open houses throughout California. The robust plant varieties of today are a direct result of the countless hours and decades of study from the dedicated professionals spending their time observing, testing and experimenting the new varieties that are more disease resistant, more floriferous, the best performers and are easy to grow in ordinary landscapes and gardens.
How does a plant get from an idea in a breeder's mind to your local nursery? It all starts with the breeders who might cross pollinate thousands of plants to select maybe a hundred of the best ones. Then the growers buy an unrooted cutting or the seed or plugs of rooted plants and grow them onto a larger size. This is where the finish growers buy the plugs and liners to put into bigger pots growing them to retail or sellable size. Terra Sole Nurseries bought some of the newest plants on the market this year themselves.
What are some of the newest trends that we might see in our neighborhood nursery this year? The breeders of impatiens have developed a variety that appears to have a gingerbread man in the center. Called Patchwork this impatien has a bigger flower and comes in six bi-colors.
Grafted vegetables, higher in antioxidants, are being developed. Non GMO vegetable varieties are grafted onto vigorous rootstalks to produce a plant disease resistant higher in nutrients. Tomatoes, basil, cucumbers. peppers and lettuce are just some of the vegetables being grown.
Biodegradable pots made from wheat are another of the new trends being offered for sale at the Spring Trials. The pots look like plastic yet breakdown after being used and can be recycled in your compost system. They hold up to the normal environmental pressures of heat, water and cold.
Sunset Western Gardening and HGTV are both offering their own branded plants that are available this year. Patented varieties coming out include a compact hardenbergia called Meena, two upright. compact nandinas- Flirt and Obsessive with bright red winter color and a compact mahonia called Soft Caress with non-prickly foliage. A cold hardy salvia named Amistad that has a very long bloom time will also be coming out soon.
To simplify choices for gardeners, better dahlias, calibrachoa, petunias and pansies are coming on the market this season. Several types are grown in the same pot so the buyer need only to plant one of these in a basket or container to get a combination that will look good and grow happily all season.
With so many plant choices which ones do Terra Sole Nurseries trial in their own garden and grow in their nursery? Next week I'll talk about what Sherry and John have their eye on, which plants they grow and the results of their own plant trials. You can find out more about the nursery at www.terrasolenurseries.com.