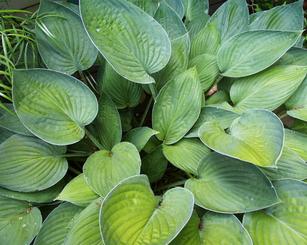 The rain last week was welcomed by all of us who like to watch things grow. There's a patch of grass growing beside a creek where I live that is the brightest neon green I've ever seen. Whether you call it apple green or lime green or chartreuse it shouts spring officially started on March 20th, the vernal equinox.
Spring weather here in the Santa Cruz Mountains can be warm and sunny one day, gray and rainy the next. Strong winds often blow last years crop of oak leaves all over the deck you've just swept but none of us would live anywhere else.
Now that daylight savings time has started we have more time to spend out in the garden. One simple addition that makes being outside in the cooler evenings more enjoyable is a fire pit. For ideas search Google images to be inspired. You can install a simple metal fire pit for burning wood or get fancy with a stone pit surrounded with gravel and stone seat walls. I guarantee you'll be happy you set aside a space for this addition to your garden.
What other to-do's are there in the garden in March?
Fertilize – Take advantage of the moist soil to fertilize your garden. Lawns and groundcovers are beginning their spring growth spurt and new leaves on trees, shrubs and perennials are starting to emerge. Spread compost, manure, or organic fertilizer to help plants get off to a strong start. Your citrus may be looking yellow from lack of nitrogen which has leached out of the soil through the rainy season and they may be lacking in iron. Feed them with citrus and fruit tree fertilizer. I like to put out a granular or time release fetilizer before a storm and let the rains water it in for me. Make sure you keep fertilizer off the foliage and crown of the plants. Wait to feed azaleas, camellias and rhododendrons until after they bloom.
Prune – Clean up winter damage on perennials, vines and shrubs.
Transplant – If you need to move any plants in the garden, now is a good time. Plants are full of growth hormones and recover quickly from transplant shock.
Divide perennials – To increase your plantings, lift and divide black-eyed Susan, gaillardia, catmint, coreopsis, daylily, diascia, geranium, ground morning glory, lamb's ears, penstemon, shasta daisy, society garlic and yarrow. Also I see my hostas are just beginning to come up so dividing them or transplanting them at this time is easy and you don't risk ruining their georgous leaves later after they unfurl.
Weed – Pull weeds regularly before they set seed. They pull out easily from moist soil. Think of weeding as free gym time.
Houseplants – Now that the days are getting longer and temperatures are inching up your houseplants can be repotted if roots are poking out of the bottom or are matted on the surface. Houseplants rest in the winter and don't require much fertilizing. You can resume feeding now with a balanced fertilizer. Your plants will benefit also from leaching the accumulated salts from the soil. Take them to the sink and run room temperature water through them several times. Houseplants clean the air.
Our last estimated hard frost of the season is approximately March 15th. Sometimes we get light frosts into April so have frost blankets or any blanket or towel ready to protect seedlings. Even a cardboard box over frost tender new growth will work fine.