Master Gardeners rock. I was inspired by the fabulous gardens that I saw on their 2010 Masters Garden Tour and even wrote a column about some of them. Attending the Smart Gardening Fair when it was sponsored by the Monterey Bay Master Gardeners at Skypark in Scotts Valley was always an educational experience. I also read the informative newsletters available on their website. So it was with the same enthusiasm that I attended the quarterly Monterey Bay Master Gardener meeting earlier this month.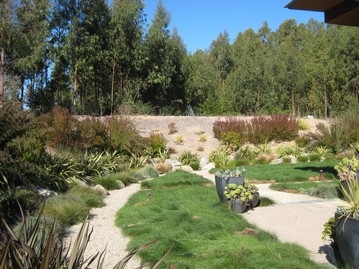 Held at the University of California Cooperative Extension office in Watsonville and open to the public, the meeting lived up the the Master Gardener slogan to "Cultivate Knowledge... by extending research-based horticultural information". The speaker was Cliff Low, owner of Perry Laboratory in Watsonville. If you have ever wondered why your hedge is languishing despite your exquisite care you may need his services.
The lab provides horticultural advising and testing of soil, irrigation water and plant tissue. Cliff works with grape growers in the wine industry, strawberry and cut flower growers and organic farmers as well as home owners and landscape professionals. He can provide fertilizer recommendation for conventional or organic amendments based on soil tests for basic fertility, micronutrients, salinity and alkalinity.
Cliff combines his formal education with real-life solutions and shared some interesting tidbits of his horticultural knowledge. Grapes, for instance, are prone to zinc and boron deficiencies and may need foliar feeding of these micronutrients. Excess sodium usually only occurs in clay soils. Mediterranean plants thrive in low phosphorus and slightly acidic soils.
I also learned that rose growers for the cut flower industry in this area now use coconut coir as a growing medium. Coir, which is the hair of the coconut shell, is also being used by gardeners as a substitute for peat moss. Although peat moss has natural anti-microbial properties, it is harvested from rapidly depleting peat lands and is not sustainable. Coir has similar properties to peat as a soil amendment and the high potassium chloride in coconuts may guard against garden pests as it does in coconut trees. The down side is the cost of shipping as most coir comes from Sri Lanka, Mexico and the Philippines. Also weed seeds are being imported in with the coir. Still it is the medium of choice for organic farmers.
If you have a well you already know this but it was interesting to me to learn that a well high in iron actually helps plants by providing this element that they need anyway. Slime bacteria that is associated with iron wells, however, is a dangerous health risk and the use of chlorine from household bleach to treat it counters this beneficial affect.
Much can be learned from a soil test provided by Perry Laboratory but If you choose to test your own soil for nitrogen, phosphorus and potassium, be sure your reagent powder is fresh, advised Cliff. Last seasons left over capsules are not reliable. Meters to measure pH are not very accurate either unless the soil sample is uniformly dry. You can contact Perry Lab at (831) 722-7606 or http://perrylaboratory.com
My thanks to Monterey Bay Master Gardeners who offer so much for the home gardener. You can call their hotline (831) 763-8007 for horticultural advice. Their next Master Gardener Training class starts in January 2012. Check out their fall newsletter for articles ranging from integrated plant management techniques for Light Brown apple moth control to the successes and failures this year in members own gardens to how bunny rabbits may be the cause of your plant losses.