"May your trails be crooked, winding, lonesome, dangerous, leading to the most amazing view. May your mountains rise into and above the clouds. May your rivers flow without end…down into a desert of red rock…where something strange and more beautiful and more full of wonder than your deepest dreams waits for you_"
_Edward Abbey
A friend and fellow columnist, Carol Carson, ends her emails with this quote and it never fails to get me to thinking and appreciating this place, this planet we call home. I hope you enjoy it, too. And then I hope you'll enjoy some time in the garden. Here are some tips for this month.
Now that we've had a bit of rain it's time to get serious about fall planting. One could almost hear the landscape sigh with relief and drink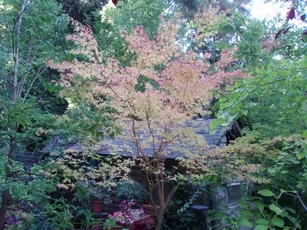 up when the first drops started to fall. Everything looks brighter and more vivid now. I can even get a shovel in the earth to turn over the soil in those dry spots where I'd love to plant a new tree or shrub. The soil is still warm and will nurture new root growth. It's a good time to plant a new fruit tree, edible shrub like a blueberry or maybe even something with beautiful fall color.

I've got my eye on a new Sango Kaku Japanese maple. Their upright growth is perfect for the smaller garden or that nook near the entry that needs an accent. They are one of the earliest maples to start coloring in fall and make quite a statement in the garden when combined with warm-toned foliage plants like heuchera Creme Brulee and fall blooming plants like liriope. Other early fall color I'm seeing these days comes from Chinese pistache and liquidambar trees. Deciduous viburnums, like my favorite Doublefile viburnum, have beautiful bright red foliage now.