Thinking about planting a new area or redoing a part of your garden that has gotten out of control? If many of your old favorites just get too big, insects and diseases plague them or they take too much time to prune you need some new favorites. What's a gardener to do these days when we want our yards to be sustainable? Here are some substitutions for good plants gone wrong. This time it's gonna be the right plant in the right spot.
Phormiums have been popular for many years now. This plant from New Zealand looks great in low water landscapes providing architectural interest but usually grows much wider and taller than anticipated and next thing you know it's taken over. One of the cultivars that behaves itself is called Jester. This phormium has beautiful 2-3 ft long pinkish leaves that have an orange midrib and lime green bands near the leaf margins. Combine it with teucrium chamaedrys germander for an awesome combination.
If you want a similar fountain-like plant in your landscape that never reverts to plain green, try a cordyline Festival Grass. Vivid burgundy red leaves to 2-3 ft tall arching over so the tips reach the ground. Tiny pale lilac flowers appear in the summer, with a jasmine-like fragrance. Plant in full sun to part shade and water regularly. Plants in shade have a darker more purple color while sun grown plants have more red.
What's deer resistant with fragrant, gold foliage, uses little water once established and stays compact? Danny's Sport Breath of Heaven is a bushy, finely textured shrub of the citrus family. They have slender stems and tiny narrow leaves which give off a spicy, sweet scent when crushed. Bright yellow new growth is upright, growing to 3- 5 ft tall. They thrive in sun or light shade and are hardy to around 18 degrees or less. Use it as a foundation plant, informal hedge or specimen plant. They are very showy in the landscape.
Ornamental oregano is a great perennial to use in a border or to tuck between other plants. Most oregano varieties are wonderful while in bloom but offer little interest after the main show is over. Oregano Santa Cruz is a better choice. Antique-toned, dusty rose-colored hop-like flowers, are offset by bright green calyxes and remain all summer on branched red stems. This plants grows 18" – 24" high and 3 ft wide. For a pleasing fusion of color, combine it with penstemon Blackbird or another rich burgundy penstemon. Add a grass such as muhlenbergia capillaris to complete the vignette.
Everybody loves clematis. They come in so many styles but how do you prune them for best flower production? Plant a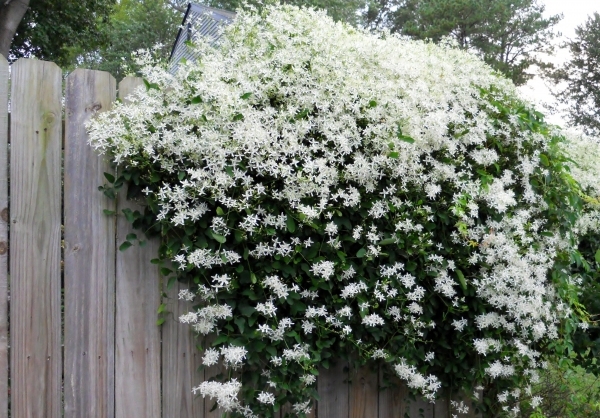 Sweet Autumn Clematis ( clematis terniflora ) and your worries are over. They are a gorgeous sight now covered in pure white, lightly fragrant flowers. Later in the fall the vine will become a silvery mass of fluffy seed heads. This small-flowered species looks impressive covering an upscale arbor or even embellishing a plain fence of garden shed. It blooms on new growth so you can easily keep it in check by cutting stems back to 12" in the spring. It will bloom well in partial shade, too.
A smaller cultivar of the old favorite oak-leaf hydrangea is Sikes Dwarf. This lovely plant provides year-round seasonal interest. At this time of year th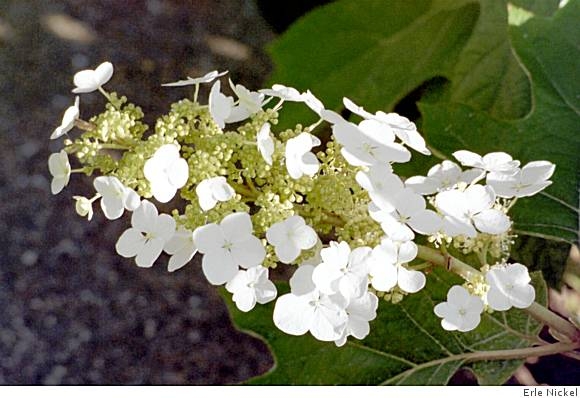 eir huge, whitish-pink conical flowers turn a papery soft tan color. In later autumn, the leaves will take on striking shades of crimson and bronze-purple, and through winter the dry flowers persist above the branches lined with exfoliating copper-brown, cinnamon and tan bark. Oakleaf hydrangeas are fast growing and accept full sun or partial shade in rich evenly moist soil. They're real lookers in the garden.