Well, it's that time of year again when all things seem possible. Hope springs eternal – the spring will be warm and the veggies will get off to a good start this year. That torrential rains won't knock off the fruit blossoms and that all will be right with creatures big and small. The narcissus are blooming already signaling the start of the new season.
An important thing to remember is that garden is a verb as well as a noun. It's the act of gardening that's important not so much what your garden looks like. So relax a little and enjoy it. With that in mind here are some tips to improve the health of your garden.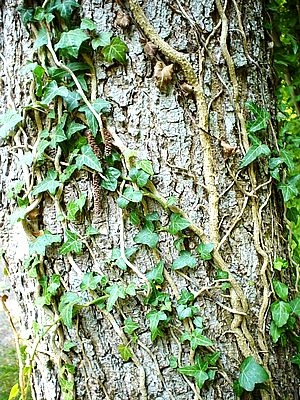 I received an email from a reader asking that I please advise people to save the life of their trees, including redwoods and oaks, by removing the ivy that grows up the trunk. Ivy can kill trees by tightening its hold on the trunk while both of them grow and can eventually stop the supply of nutrients and water from the roots to the branches. Trees supporting heavy ivy growth can be uprooted or broken by wind. The environment ivy creates is also harmful to trees. It keeps moisture against the bark of the trunk, creating a state of constant wetness which attracts insects. It covers up any developing problems with the tree. Many tree diseases and decay became major problems because they were hidden by ivy growth.
If you have a tree with a lot of ivy coverage, there are a few simple steps you can take to remove the ivy. Go around the tree and cut out a vertical section of ivy about 1-2 feet wide around the entire tree. A large screwdriver or forked garden tool can be used to pry and snap the cut section away from the trunk. The lower portion of ivy will need to be pulled and cut off periodically to prevent further growth from the base. The upper ivy will die on its own and can be removed much later when it's easier to pull.
What else should we be doing to enjoy our gardens more?
Use plants that bloom over a long season, have colorful leaves and attractive bark and berries.
Garden on a small scale using containers and small, easy to manage plots for organic vegetables, flowers and herbs.
Add low voltage, LED or solar lighting so you can use the garden after dark.
Furnish your patio during the warm season with pots, furniture,a fire pit and a patio heater.
Add water to your garden with a small recirculating fountain or pondless waterfall.
gold, chartreuse, variegated or burgundy colored foliage in the garden. Abelia Kaleidescope paired with Purple Smoke tree is one of my favorite combinations. A combo to try for the shadier parts of the garden is Black mondo grass with white variegated Jack Frost brunnera. Look at your garden as a series of small vignettes and pair new plants together you haven't tried before.
Go through one of your seed catalogs and see what's being offered in these tones.
Remember that garden is a verb as well as a noun. It's the act of gardening that's important not so much what your garden looks like so don't sweat the small stuff.