Fall brings with it not only foliage color but also colorful fruits and berries that invite birds into your garden. If you're a backyard birder you probably already have lots of plants to lure our feathered friends,
If you have room for a new tree, consider Paul's scarlet hawthorn. With clusters of double rose flowers and small vivid red fruits resembling tiny apples in late summer and fall that hang from the branches well into winter, this tree offers interest in more than one season. Robins are attracted to hawthorn berries.

Flowering crabapples sport showy edible fruit relished by many birds in the winter, including black-headed grosbeaks. Fruit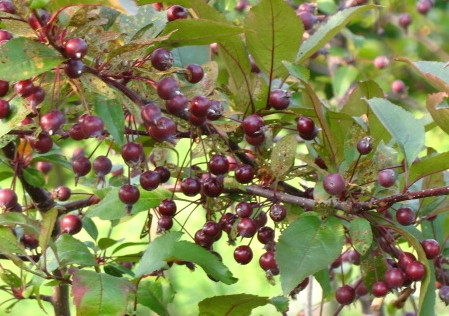 color ranges from reddish purple, brilliant red to golden orange. Crabapples are good lawn trees and their spring blossoms are stunning. To avoid disfiguring diseases, choose varieties that are resistant to cedar-apple rust, scab and powdery mildew. Among these is 'Prairiefire', with pink flowers and dark red fruit. This tree grows 20 feet tall.

A native that puts on a fall show is A background plant most of the year, the white berries on this 4-foot shrub stand out when the leaves drop. Snowberry is a good choice for erosion control on banks.
Looking like clusters of pale purple pearls, the gorgeous fruits of beautyberry ( Callicarpa ) are born well into winter. This deciduous shrub reaches to 6 feet and takes sun or light shade.

For both bird-attracting berries and brilliant winter stems, plant redtwig dogwood. Native along creeks and other moist spots from northern California through the Northwest, it performs well with little additional summer water once established in gardens

Other shrubs with beautiful colored berries include barberry, cotoneaster, currant, elderberry, mahonia, nandina and pyracantha. As an added bonus many of these berries make good holiday decorations, too.