What really makes a garden? For one it may be the comfortable reading chair tucked under a shade tree in the back of the garden. For another a cutting garden or vegetable garden puts a smile on the face of its creator. But for many a garden isn't a garden until it gets your personal touch. Whether this is a succulent collection in old spice tins or an ornamental pot placed among your perennials, the possibilities are endless. Turn your old junk into garden treasures.
Whenever I visit a garden its the touch of whimsy that catches my eye. The Snowball viburnum and the fragrant roses covering the arbor may be spectacular but it's the unexpected creations nestled here and there that make me appreciate everything so much more.
There are so many ways to inexpensively make a garden your own. Recent windy weather has resulted in lots of downed branches. The smaller 3" diameter sizes would be perfect interwoven and tied together for a homemade arbor. While this would not be sturdy enough for a vine as vigorous as a wisteria it would provide enough support for a climbing rose or star jasmine. Smaller branches can be used to make low fences to border a flower garden.
One garden I recently vis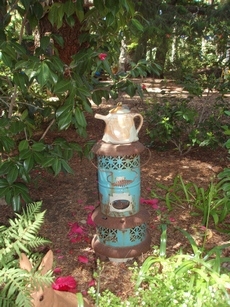 ited bordered their flower beds with small brightly glazed pots overturned on river cobbles. The effect was pure whimsy. I never get tired of the chair-turned-planter whenever I see it in a garden. You can use either a wooden or an ornamental metal chair as long as you can remove the center of the seat so a pot can rest on the frame. Fill with perennial purple wave petunias, red verbena and white geraniums for a July 4th tribute. Shade lovers could use Get Me lilac campanula, Goldilocks lysimachia and dwarf fuchsia's instead.
Over the years I've accumulated a collection of commemorative metal canisters re-issued as a tribute to the anniversary of the product. From Quaker Oats to Hersheys cocoa, Hill Brothers coffee to Sunshine saltine cans I have more than I can display. Now I pole a drainage hole in the bottom, fill with an inch or two of gravel and plant with succulents. I especially like those that tumble over the sides like sedum Lemon Ball with golden foliage and yellow flowers. Echeveria Perivon Nurburg with pink opalescent rosettes in the red Hills Brothers can is a show stopper, too.
You could get lucky and find an old Radio flyer wagon to plant up but if not look around your own basement or visit a thrift shop, garage sale or flea market for treasures for your own garden.