April showers will bring an abundance of May flowers around here. And that's just one of the perks of a cool, rainy spring. Shrubs and perennials will have longer to establish a good root system before hot weather arrives and ground covers will have time to spread and shade the soil conserving moisture come summer. What strategies can you follow that will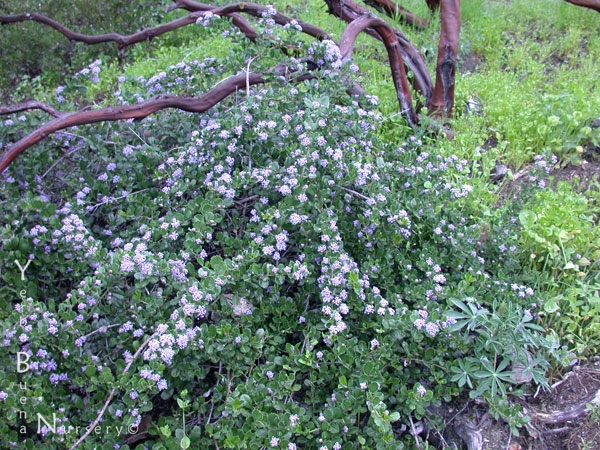 this summer and give you extra time to enjoy it?
Plant in masses. When designing or reworking your garden, make it easy on yourself by planting fewer varieties but in greater numbers. Planting this way will reduce the number of different maintenance tasks for that area. For example, if you have a large hillside that you want to cover, plant it with a groundcover like ceanothus gloriosus which fans out 6-15 feet. Some manzanitas like arctotaphylos uva-ursi eventually spread to 15 feet each. A shady spot could be planted with ajuga which spreads aggressively but in the right spot you'll welcome a thug like this to cover the ground quickly. Same goes for Goldilocks lysimachia. Give it an inch and it'll take a mile but that might be just what you want under a tree.
Another time saving strategy is to group plants with similar moisture needs. This may sound like a no brainer but if you have just one prima donna in a bed of more drought tolerant plants, you'll be dragging the hose over to that bed for just one plant. If you find that some of your plants are not quite as low water as you'd like, move those to their own spot. In general, plants with large leaves usually require more water and transpire faster while drought tolerant plants typically have one of more of the following characteristics: deep taproots and leaves that are smaller, silver, fuzzy or succulent.
Another watering time-saver is to avoid putting thirsty plants in hard-to-reach places. If the irrigation system doesn't reach that far, keep it simple by planting drought tolerant woody shrubs or perennials there.
Pluck weeds when the soil is moist and before they have gone to seed. Even if you don't get the entire root of more persistent weeds, just keep pulling at the new growth. Eventually, the plant will give up having used up all of the food stored in its roots.
Plant edibles among your other plants near the kitchen. Tricolor sage looks great alongside other plants with pink and violet leaves. Purple basil planted below the silver foliage of an artichoke is another great combination. Lemon thyme growing next to a burgundy colored dwarf New Zealand flax would look spectacular, too. And don't forget to plant decorative and delicious Bright Lights swiss chard with its stalks of yellow, orange, pink, purple, red, green and white throughout your beds. One of the easiest vegetables to grow, it is actually a form of beet from the Mediterranean area.
So get the lemonade ready to enjoy all your free time this season. It's bound to get warm eventually.