One of my New Year resolutions is to get my garden certified as a wildlife habitat by the National Wildlife Federation. It will be fun for me and would also be a good school project for your kids. They can keep track of all the birds, butterflies, dragonflies, insects, mammals, lizards and frogs that come to visit your yard. Once your backyard is certified by NWF, you can order and display an attractive Certified Wildlife Habitat sign to convey your commitment to wildlife conservation and the environment and help spread the word to your neighbors.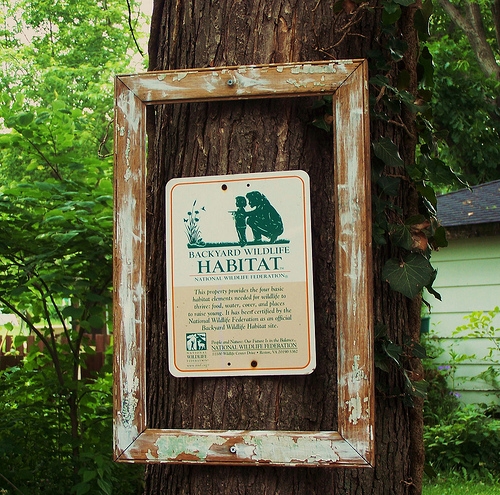 All species of wildlife need the basics of food, water, cover and places to raise young. We can help conserve our natural resources like soil, water, air and habitat for native wildlife by gardening in an environmentally friendly way. Here are some of the simple steps I'm doing in my small garden garden to reach this goal.
To provide food in my shady garden I plan to include Ca. native snowberry, pink flowering currant and mahonia for berries that attract birds. Hummingbirds will find nectar from coral bells, western columbine and fuchsia-flowering currants. I also keep my feeders up year round for them.
Butterflies will like like Santa Barbara daisy, sweet alyssum and columbine. Plants that will attract beneficial insects are Ca. rose, coast live oak and ceanothus. Although I try to plant natives for their beauty and toughness, I believe that finding the right balance by mixing natives with non natives can enhance benefits to wildlife.
Next, I provide clean water for drinking, bathing and reproduction. I don't have room for a pond but I do have bird baths that I keep filled year round. I'm also planning to make a puddling area for butterflies.
Wildlife need places to find shelter from the weather and predators. I keep some areas of my garden orderly but leave some less manicured. I plant in layers providing a canopy or tree layer, a shrub layer and a ground cover layer. This provides a large range of sheltering, feeding and nesting sites. Keep in mind, wildlife need to feel safe in their surroundings. They tend to steer clear of large, open spaces. I find most of the wildlife that visit my yard start at the wooded area in the back and work their way up through dense shrubs, wild berries, a dead tree and a small log pile.
Evergreens and deciduous trees provide nesting areas for birds. The rock wall and leaf pile are favorite spots for mice, sakes and salamander to lay their eggs or raise young. Butterfly larvae find food on host ceanothus, huckleberry, oaks, bleeding hearts, foxglove, sweet alyssum, ornamental strawberry, dogwood, viburnum, crabapple and red flowering currant. I'd plant a wisteria for them if I had more sun.
I conserve our valuable resources by doing simple measures like mulching, using drip and soaker hoses, planting low-water use plants like natives suited to this area, using organic pesticides only when necessary and using organic fertilizers.
In my little corner of the world, I've created a beautiful wildlife garden. Visit the National Wildlife Federation at NWF.org to get started on your own certification.